We've been busy at Biz! In 2023, we set out to focus on enhancing our existing products to help our clients build learning programs that mitigate risk, upskill and reskill their people, and develop leaders who drive results.
We know a robust content library is key for building a successful program, so we strategically made additions to our content library in key areas through BizLibrary Productions, as well as producer partners.
Build better learning programs with a robust content library
BizLibrary Productions released more than 200 new titles so far this year, with an emphasis on HR Compliance and Business Skills.
We've also grown our Expert Insights Series:
-The Science of Happiness at Work with Stella Grizont
-Behavioral Interviewing with Sarah Johnston
-Best Use of Your Valuable Time and Effectively Negotiating with Barb Bruno
-ERG Intelligence and The Science and Secrets of Real Confidence with Alyssa Dver
-Financial Planning and Investing with Debra Ohstrom
-The Fundamentals of Marketing and Developing Remarkable Marketing Campaigns with Brian Honigman
-Freedom from Racism (two-part series) with Marshall Fields
-Driving Your Own Development with Meredith Whipple Callahan
-Disability Inclusion with Liz Johnson
We expanded in the areas of Safety, Software and Development, and Multi-Family/Property Management through partnerships.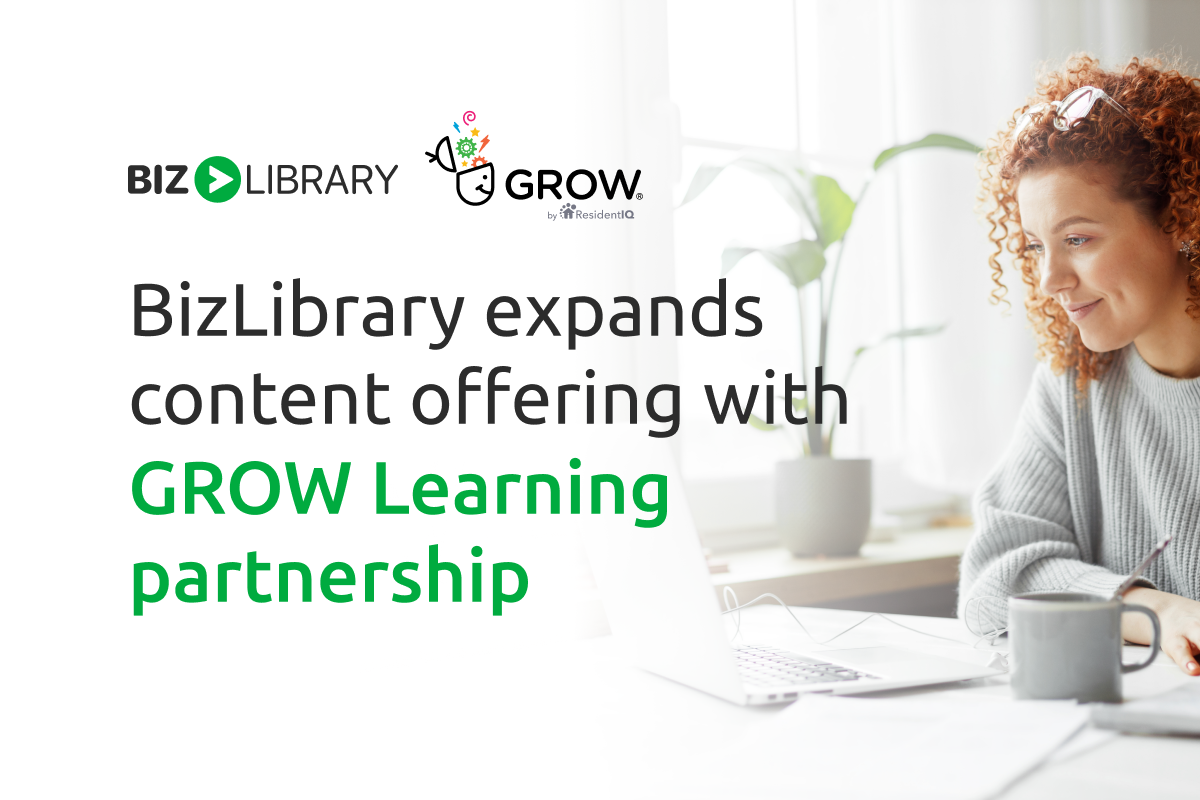 Additionally, select BizLibrary content is now available for PMI recertification credit, including courses on business skills, HR compliance, leadership and management, workplace safety, sales and service, and information technology. We have more than 200 titles that qualify and are adding more each month!
Coming soon to the BizLibrary Collection
We are always adding new titles and topics to our content library to support your learning programs. Look for these titles coming soon!
-Robotic Process Automation
-Predictive Index Assessment
-Virtual Interviewing for Managers
-Expert Insights: New Hire Success with Meredith Whipple Callahan
-Expert Insights: Building a Belonging Culture with Elisa Glick
-Expert Insights: Healthy Meetings with Susan Leahy
-Expert Insights: Finding Your Resiliency with Gabriella Parente
"Build Your Own" Academy
In addition to our off-the-shelf 16-week and 4-week live leadership academies, organizations can now build their own academy based on the specific needs of their workforce. With a list of varying skill blocks to choose from including leading change effectively, coaching and feedback, collaboration and teamwork, and many more, BizLibrary can deliver live, expert-led training to help upskill your leaders and managers where they need it most.
Enabling great learning programs through an all-in-one platform
In order to make it easier to take learning on the go, we've recently added QR codes to our content profiles. This feature gives administrators the ability to promote and link content outside of the LMS and helps deskless employees to view content in a physical location by using a posted QR code.
We recently released a new Classroom Dashboard to enhance the administrator experience. The Classroom Dashboard is a central location for LMS users to search for, view information of, and manage their registration status in all valid classrooms and their events that are within the custom libraries that the user has access to.
Speaking of dashboards, we're excited to roll out our new BizLMS Administrator Dashboard soon! The new dashboard – currently in beta – will be a central hub for administrators to build programs and keep a pulse on their programs at a glance. In addition to quick keys for frequently used actions, administrators will also be able to see top learners, top teams, and top content. It will be released widely to BizLMS clients in October.
In phase two – coming late 2023 – administrators will be able to customize their widgets.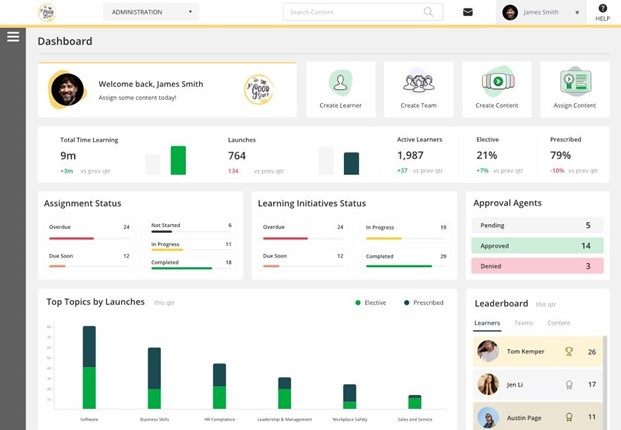 Over the next few quarters, we're going to focus on two key themes when enhancing our platform: Discovery and Curation.
Discovery
To make it easy for learners to discover new content, we're enhancing our search functionality by introducing a new AI-powered search engine. Learners will be able to search the entire LMS with a word, phrase, or question, and return to relevant content and resources.
Curation
To create a more curated experience, learners will be able to select content preferences, and those preferences will inform our AI-powered recommendation engine, which will then serve up relevant content to the learner.
We're taking curation a step further with our Skill Booster Learner Marketing program for BizLibrary clients with BizLMS and BizLibrary Unlimited. BizLibrary content experts curate lessons on topics like communication, time management, wellness, teamwork, most in-demand skills, and more and puts together bi-weekly email communications that are delivered directly to learner inboxes to drive utilization.
We're excited for these enhancements and how they'll help you build better learning programs! If you're interested in learning more about any of these enhancements, contact your BizRep!