Bring Your Employees Together No Matter Where They Are
Employees have spoken – hybrid work is the way of the future. Gartner predicts that 51% of knowledge workers will be hybrid by the end of 2023, and 20% will be fully remote. While we love working hybrid and remote here at BizLibrary, we know that it can have its challenges, so our online L&D solutions are here to help!
Get Started with BizLibrary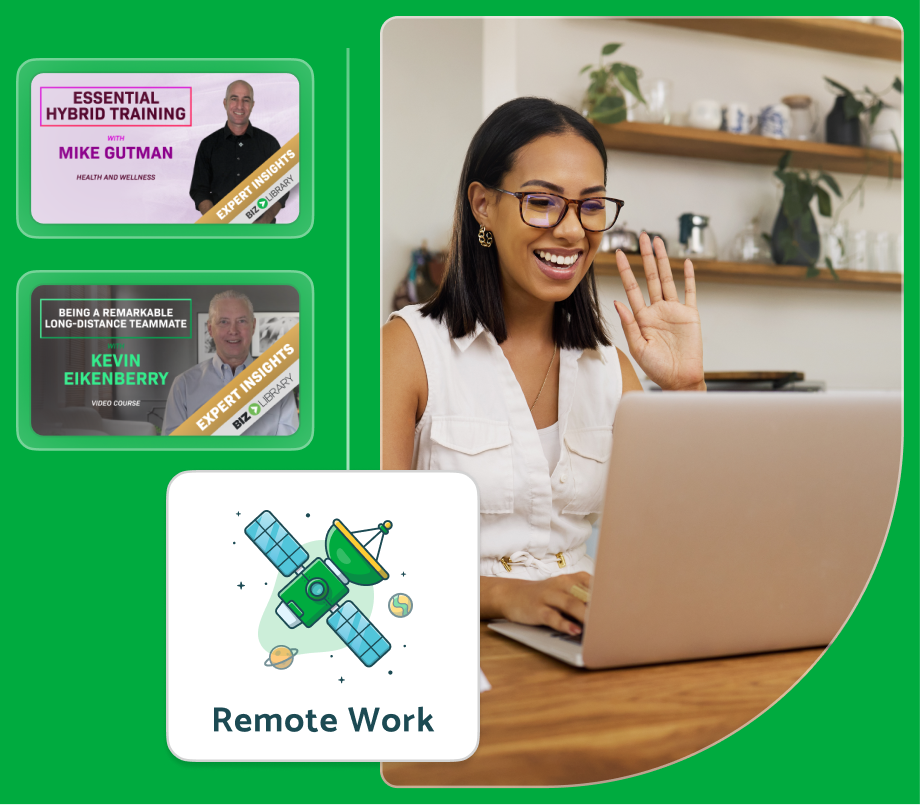 Our Key Topic Areas for
Remote & Hybrid Work Performance
Necessary Skills for Remote Work
Creating the optimal remote workspace
Organizing and planning tactics to meet deadlines on time
Learning new required technical skills to perform positions remotely
Communicating clearly, succinctly, and directly with dispersed teammates
Maintaining boundaries to achieve a healthy work-life balance
Collaborating Successfully While Remote
Building trust to enhance collaboration
Listening to understand different opinions or thoughts
Remaining respectful of geographically dispersed employees
The do's and don'ts of conflict management in a remote environment
Creating a Remote or Hybrid Leadership Style
Understanding the new work-from-home or hybrid challenges that your employees may face
Setting standards and outlining best practices for working remotely or from the office
How to build better meeting flows with your remote and hybrid teams
Setting aside time for team interaction and regular check-ins
How hybrid teams can function successfully
Check out our Working Remotely best practice playbook
Get the step-by-step guide on how we'll help you build a collaborative remote work environment
How BizLibrary Can Help You Create a Flexible and Connected Remote Work Environment
Unify Dispersed Workforces
Utilize our live virtual classroom capabilities and run your learning programs directly through BizLMS. Build a hybrid classroom training curriculum to create an environment where you can train across multiple locations (physical and digital) at the same time and track completion.
See Hybrid Classroom
Empower Employee Voices
A study recently published by Forbes noted that 32% of introverts working remotely cited a lack of communication as their biggest daily hurdle. Utilize our content library to discover communication strategies that work for everyone and empower employees to advocate for their needs.
Explore the Library
Accelerate Learning with Live Expert Coaching
A majority of respondents in a BizLibrary survey noted that they didn't have the time to develop a training plan for their employees. No problem! BizAcademy is a live and instructor-led turn-key solution with no lift from your team. Book an academy and upskill your employees at scale!
See BizAcademy
Prove Results Right Away
Our seasoned Implementation and Client Success Teams will help you build a custom learning program from our best practice blueprints (including pre-written templates and activities), so you can successfully launch in less than 90 days and start seeing those results you came to us for.
How We Launch Programs
Everyone comes from a different background, a different story, different knowledge. What I love about BizLibrary is that it meets everybody where they're at and then provides our company a consistent framework to move forward.
Clare Gilligan
Gilligan Company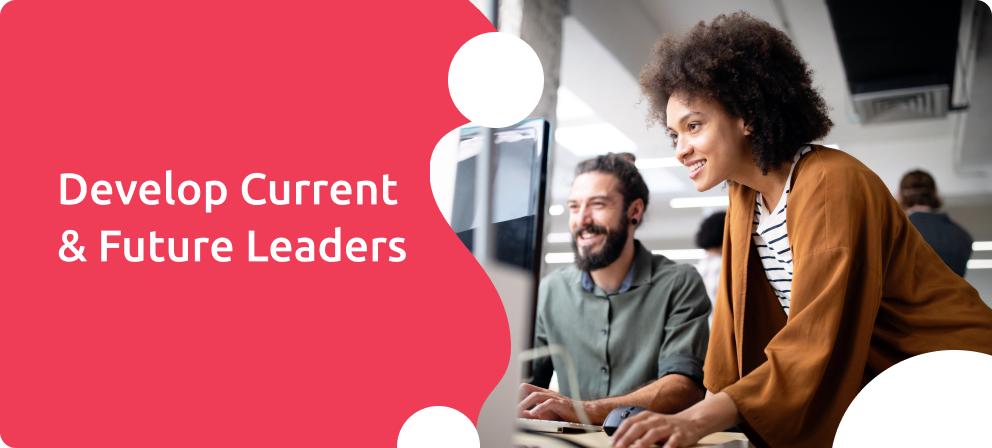 Gilligan Launches New Leadership Program to Increase Employee Retention and Internal Promotions
BizLibrary was able to build a program that matched exactly what Gilligan was hoping for by meeting weekly to get everything established. Because of the dispersed nature of their industry, their program is conducted in a hybrid setting. By using a hybrid model of trainer-led and online content, Gilligan sees better knowledge retention and can easily track their learners' progress through BizLMS.
Read the Story
More Ways We Can Support Your Training &
Development Programs