Your Dream Training Program in One
Seamless Solution
From better compliance to personalized skills development to retaining your talented people, we're here to help you accomplish your goals.
BizLibrary has a wealth of courses on how to lead, how to manage, how to have difficult conversations. I can't think of a skill that a manager would need that isn't addressed with training content in the BizLibrary program.

Edie Ingram
Manager of Training and Organizational Development
We want our employees to be prepared for internal promotions and BizLibrary has really helped us get some of our workforce that hasn't been doing office work more prepared - better able to interview, do some office situations, be more clerical - so if they're not used to doing that BizLibrary has really helped us to improve that.
Vanessa Chapa
Organizational Training & Development Administrator
We use temp-to-hire for our positions, and we were having a problem with temps not staying with the company. Our retention rate now is 65% - prior to launching BizLibrary it was about 10%. So we're extremely proud of what we've been able to do with putting processes and systems in place in the company, and also using BizLibrary to support everything that's being said.
Kim Judkins
Learning and Talent Development Manager
Since our partnership with BizLibrary has launched, I've found that employees are really embracing self-learning. Before our partnership we really didn't have the opportunity for self-learning through online learning, and our library is now full of different videos and resources our employees can use at a moment's notice.

Jessica Mell
Learning Strategist
Who We Support
BizLibrary clients include growth-oriented organizations across all sizes and industries. Through our flexible and scalable online learning solutions, we help them tackle challenges that range from improving compliance effectiveness, to developing managers and leaders, to upskilling and reskilling their workforce.
Personalized Skills Development
Get employees the skills they need 
Tackle skills gaps at scale - our solutions let you automate skills development, helping every employee to reach their performance potential and take the right steps to grow their career.
Support for Leaders & Managers
Provide leadership development at any level
From standardized manager training programs to personalized leadership development, we provide flexible solutions that make an impact on the people guiding your organization.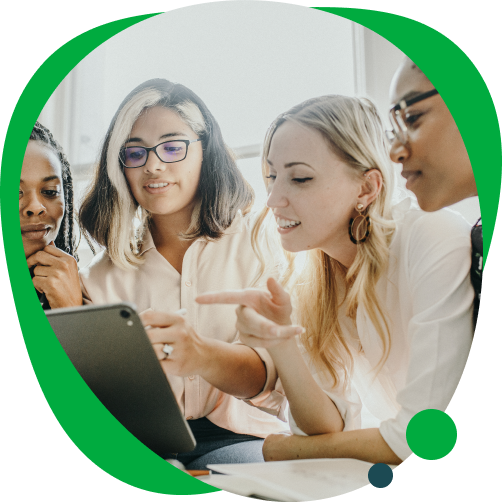 Uncomplicated Compliance Training
Deliver and track compliance with ease
Make compliance efficient, engaging, and effective with content that keeps employees' attention and a platform that keeps everything straightforward, from assigning to reporting.
Maximum Return on Investment
Strategic partnership to maximize ROI
To ensure you reach your goals, we match every client with a Client Success Manager to help implement training strategies that work, measure ROI, and engage employees in learning.
Our Reputation in the Training Industry
Rest assured knowing we're not the only ones who think our online learning solutions are exceptional. Major industry players like Brandon Hall, Training Industry, Training Magazine, Capterra, and more recognize excellence with our products and services through new awards every year.

See if BizLibrary is a good
fit for your organization