LEARNING MANAGEMENT SYSTEM
A powerful platform that easily manages compliance needs and
drives exploratory learning across your organization.
Deliver a Modern Learning Experience
BizLibrary's learning platform is built around the preferences of learners and administrators alike. Our customizable learning portal puts content front and center increasing engagement with the training and driving a culture of learning throughout your organization.
Quickly Find The Most Relevant Content
Our robust search functionality, wide variety of filtering options, and curated learning paths make it simple for learners to find content on the exact topic they are looking for. With our recommendation engine, BizLibrary takes the guesswork out of finding content by suggesting content to learners based on profile preferences as well as past utilization from employees in similar job roles.
Drive Engagement, Utilization, and Social Collaboration
With the ability to create and share playlists, learners can save content for later or share with a peer to encourage collaboration. Managers and administrators can feature playlists to deliver targeted and relevant training topics, creating an individualized learning experience. Add in points and badging with our latest gamification feature to increase utilization using social learning principals.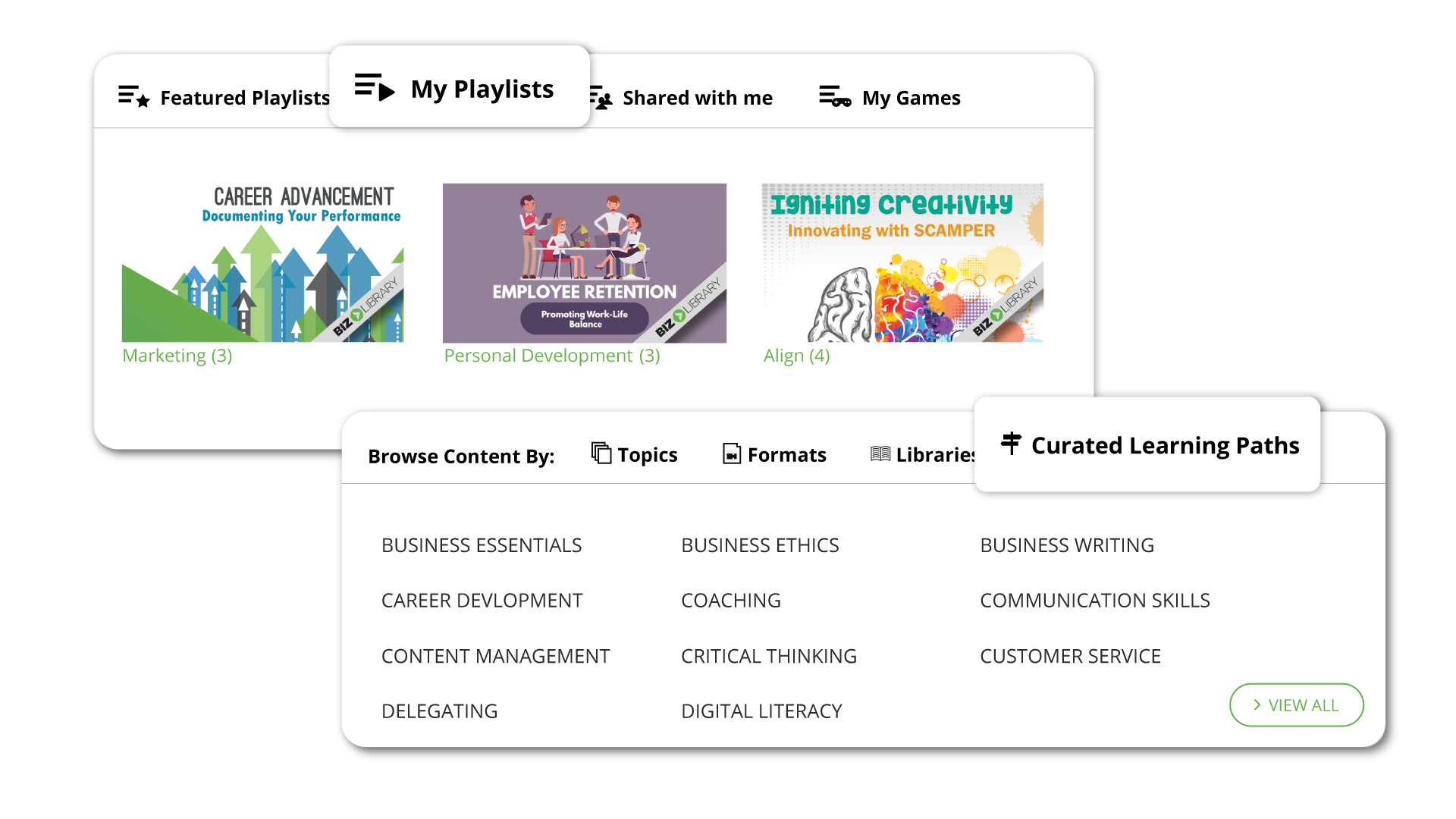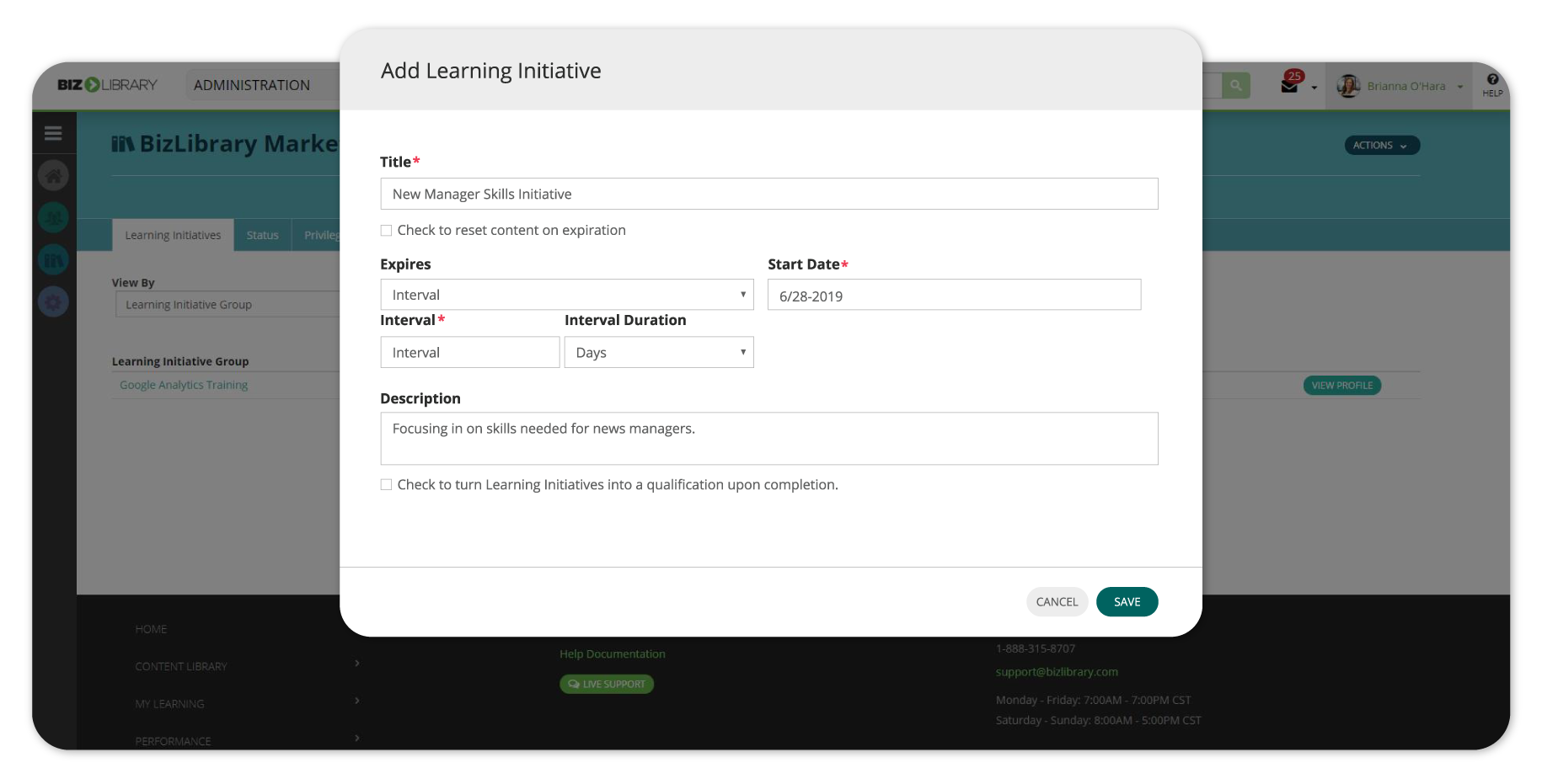 Pave the Way For the Employee Development Journey
Learning Initiatives allow administrators to easily build and manage curriculums whether for new hire onboarding, new manager training, or annual compliance training. Automatically reset upon expiration or even tie to qualifications for seamless record keeping and management from one place.
Keep a Pulse on Program Performance with Real Time Insights
Utilize our pre-built reports and dashboards for a quick snapshot or deeper analysis of the most pertinent KPI's to your program. With Learning Insights, administrators can compare internal team performance and the performance of your organization to other benchmark and peer organizations to see how you stack up.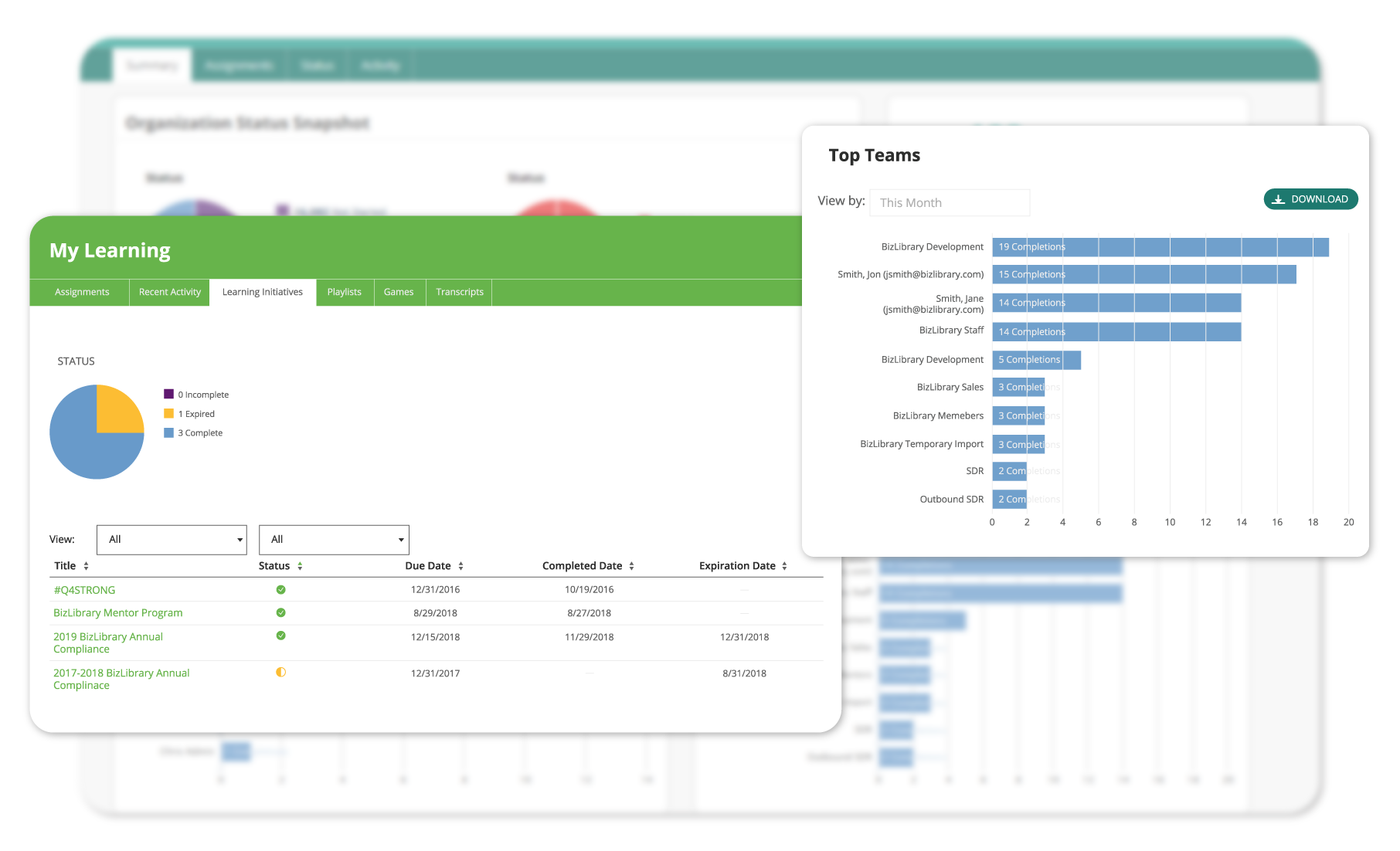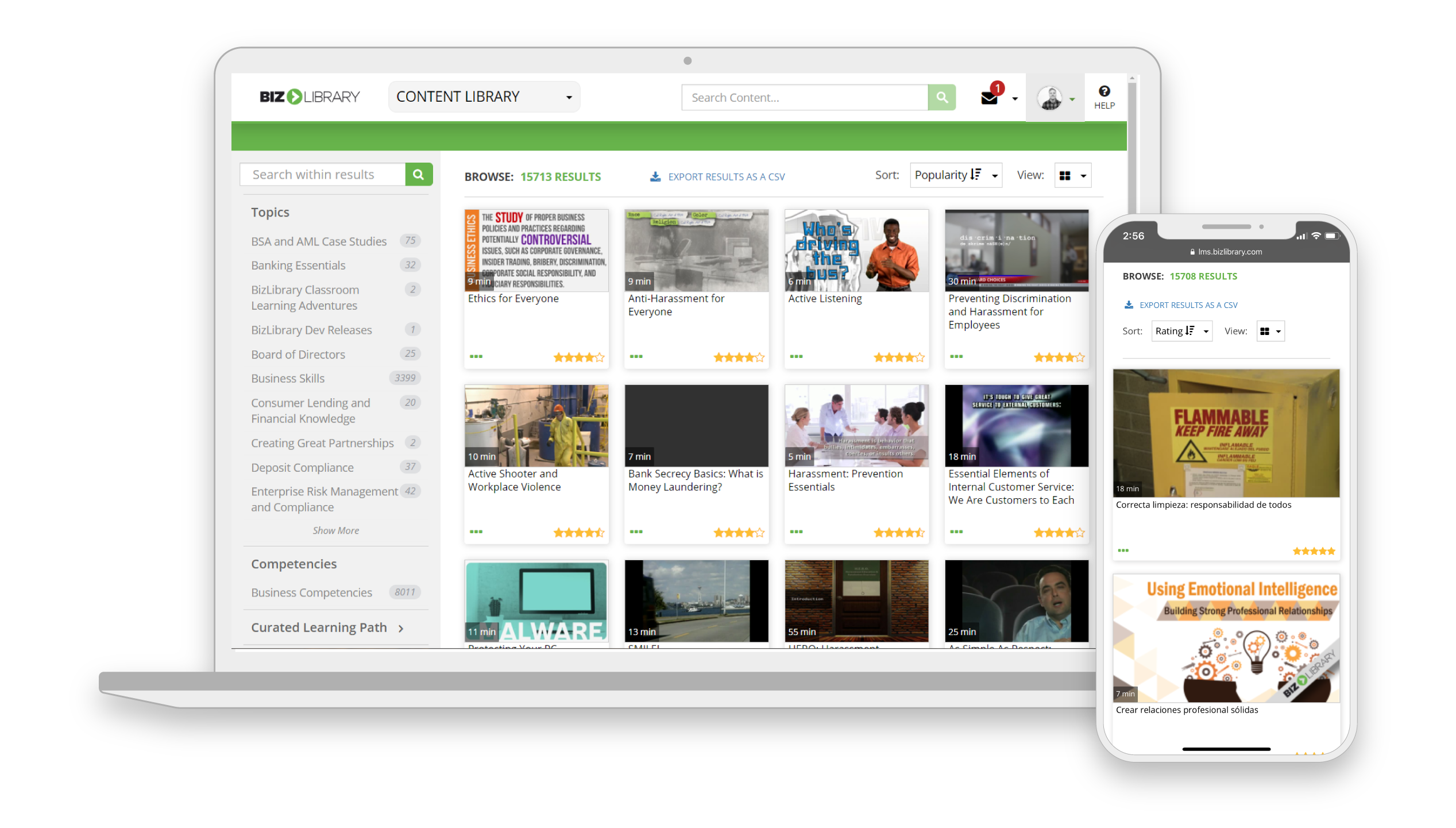 Accessible Anywhere, On Any Device
Learning shouldn't be confined to a desk. Our learning platform is fully-responsive, enabling access to learning wherever your employees may be. Whether in the field, on the floor, or in the office, training can be easily accessed on any device with an internet connection for a true just-in-time learning solution.
Platform Tiers and Features
BizLibrary's learning management system is conveniently organized into three tiers to allow you the option to customize your solution based upon the needs of your organization.
LEARNING TECHNOLOGY FEATURES
Learning Portal
Approval agents
Branded site design
Personalized user experience
Online and dashboard reports
Self-registration or administrative course assignments with due dates
Dedicated client success manager
Live end-user technical support (chat, email, phone)
Certificates of completion
Social ratings and reviews
Course recommendation engine
Email messages and reminders
Curated learning paths
Curriculum builder
Playlists
Administrative support and training
Gamification
Content Management
Approval agents
Branded site design
Personalized user experience
Online and dashboard reports
Self-registration or administrative course assignments with due dates
Dedicated client success manager
Live end-user technical support (chat, email, phone)
Certificates of completion
Social ratings and reviews
Course recommendation engine
Email messages and reminders
Curated learning paths
Curriculum builder
Playlists
Administrative support and training
Gamification
Management of custom documents, links & videos
Quiz and survey builder
Add custom courses, embedded video and learning assets
Community Social Learning and Collaboration Application
Learning Management
Approval agents
Branded site design
Personalized user experience
Online and dashboard reports
Self-registration or administrative course assignments with due dates
Dedicated client success manager
Live end-user technical support (chat, email, phone)
Certificates of completion
Social ratings and reviews
Course recommendation engine
Email messages and reminders
Curated learning paths
Curriculum builder
Playlists
Administrative support and training
Gamification
Management of custom documents, links & videos
Quiz and survey builder
Add custom courses, embedded video and learning assets
Community Social Learning and Collaboration Application
Learning Initiatives
Classroom & external training management
Qualification management
Personalized user experience
Online and dashboard reports
Self-registration or administrative course assignments with due dates
Dedicated client success manager
Live end-user technical support (chat, email, phone)
Certificates of completion
Social ratings and reviews
Course recommendation engine
Email messages and reminders
Administrative support and training
Management of custom documents, links & videos
Add custom courses, embedded video and learning assets
Community Social Learning and Collaboration Application
Classroom & external training management