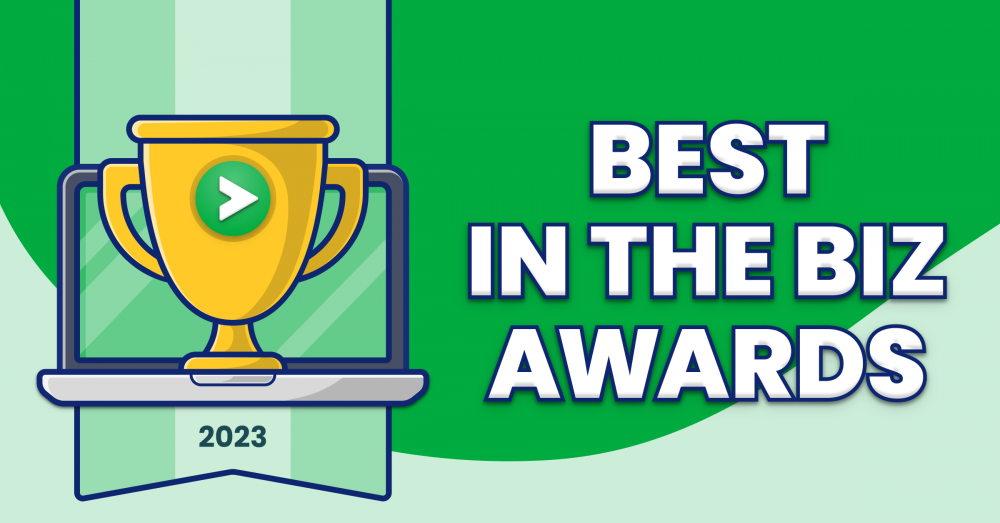 Applications for the 2023 Best in the Biz Awards are now closed. To view the 2023 winners, hover over the award descriptions below.

P.S. It's never too early to be preparing your application for spring 2024. Our award titles and descriptions will stay the same to help you know what we will look for next award season!


About the Awards
Hover over the card descriptions to see what each of our 6 awards are all about, along with this year's winners!
Most Improved: The Karate Kid Award
Winner: Martin Engineering
We get it! Getting a training and development program going at an organization isn't easy. Challenges can arise and what started as an exciting new change, quickly takes a turn, and the anticipated initial results aren't as hoped. So, then it's time to regroup and plan to get things turned around. And despite the additional heavy lifting that had to come with getting the program off the ground, there is NOTHING sweeter than victory. Our favorite victory story isn't Daniel LaRusso over Johnny Kreese—oh no—it's about how a client turned low license consumption and user utilization around! We fully anticipate clients will be kung fu fighting over this award!
Most Inclusive Culture: The Ripple Effect Award
Winner: Pyramid Global Hospitality
Creating an inclusive culture starts with a commitment to taking your organization's safety and compliance training beyond just checking the box. You've heard us use that phrase before, but what does it mean? We want to recognize a client leading the charge on expanding into DEIB training that addresses how cultural differences can be present in the workplace; but educates employees on how to interact with empathy, seek to understand, and always show respect. When designing these programs, what starts with assigned content and assignments, comes with the chance to make a lasting impact on the organization and even outside of it! ​
Best Leadership Program: The Summit Award
Winner: Milo's Tea Company
Alexa, play "Climb Ev'ry Mountain" from the Sound of Music! Leadership training is at the top of almost every training and development professional's priority list because they know how important it is to empower their people to reach the next summit of their career. Additionally, it helps with identifying hi-potentials for people management positions, improves the skills of existing leaders, and prepares employees for senior leadership opportunities. When programs like these are in place, it leads to more internal promotions, better productivity, and less turnover when employees feel there are strong leaders guiding their organization. This award is for a client who puts an emphasis on leadership training in their organization with a variety of delivery methods and activities throughout to enhance the learning experience and encourages their learners to keep climbing. ​
Top Upskilling Program: The Level Up Award
Winner: SeneGence
Giving employees the opportunity to grow and expand upon their skills is one of the biggest benefits an employer can provide their employees. By offering training that allows employees to dive deeper into skills they'd like to gain or improve upon betters the chance of filling open positions internally and motivates the employees to take control of their own professional development. This award goes to a client who implemented a robust personalized skills program in their organization to give their employees more career mobility within the organization and can detail how the program has impacted their learners. ​
Best Overall L&D Experience: The Whole Nine Yards Award
Winner: ePlus Technology
You know what they say: First comes BizLibrary content, then comes BizLMS, then comes a training experience like no other. Okay, maybe "they" is us at BizLibrary, but we really believe in this combo! Coupling these two solutions together really does create the perfect match. The client award winner takes their program above and beyond by fully utilizing the BizLibrary solution – content and platform to tackle at least two key business challenges (compliance and risk mitigation, upskilling and reskilling, and leadership development). Features within the LMS, like hybrid classroom management, gamification, custom content upload, learning initiatives, or others, are leveraged to deliver an engaging training experience that keeps learners coming back for more.
Best New Program Launch: The Off to the Races Award
Winner: DFC Company
Crossing the finish line might be one of the most satisfactory feelings in the world we would have to guess (we're not runners, alright?!). But, what we don't have to guess is that same feeling applies to launching a brand-new training and development program with full learner engagement! There is so much stretching –errr we mean planning—that goes into prepping for the start. If we had to name a few: leadership buy-in, needs assessments, program creation, gamification set-up, building learner excitement, and so much more. This award recognizes the client who collaborated with our Implementation Services team to launch a stand-out training and development program that led to an extraordinary photo finish. ​
How to Create a Standout
Awards Application
Look at the questions and outline the details you want to include

No secrets here! We tell you exactly which details we're looking for on the application. Spend some time looking at the questions and mapping the details you know you'll want to include. This will help you tell your story and make sure you hit on all the points, so nothing gets left out (like sometimes that email attachment!).

Give us allllll the details

You know when you're at dinner with your parents, and they ask you every single follow-up question possible to the story you're telling them? Well, those are the details we are looking for! How did gaining leadership buy-in go, what did you do to prep for the launch of your program, and what are the details of the program (topics covered, video lessons included, games, etc).

Include learner quotes

Do you have a feedback survey implemented in your organization that gets sent when a learner finishes an initiative or program? Great! We'd love to hear their feedback to further emphasize the benefit to them and the organization.

Let's see those success metrics!

You've got Return on Investment (the numbers!). You've got Return on Expectation (the qualitative stuff!). We want to know it all. Think: how can I show my program is a homerun?! Are you saving money, are safety accidents down, are you seeing more internal promotions – toot your own horn and share it with us!
Questions? Reach out to your Client Success Manager or email Grace at glester@bizlibrary.com.