Keep Your Employees Safe with BizLibrary
We know that tracking and administering vital safety training can be a slow and difficult process - but it doesn't have to be. With a combination of engaging, interactive microlearning and an LMS that provides top of the line reporting capabilities, BizLibrary can help you administer and track all your workplace safety training at the click of a button.
Get Started with BizLibrary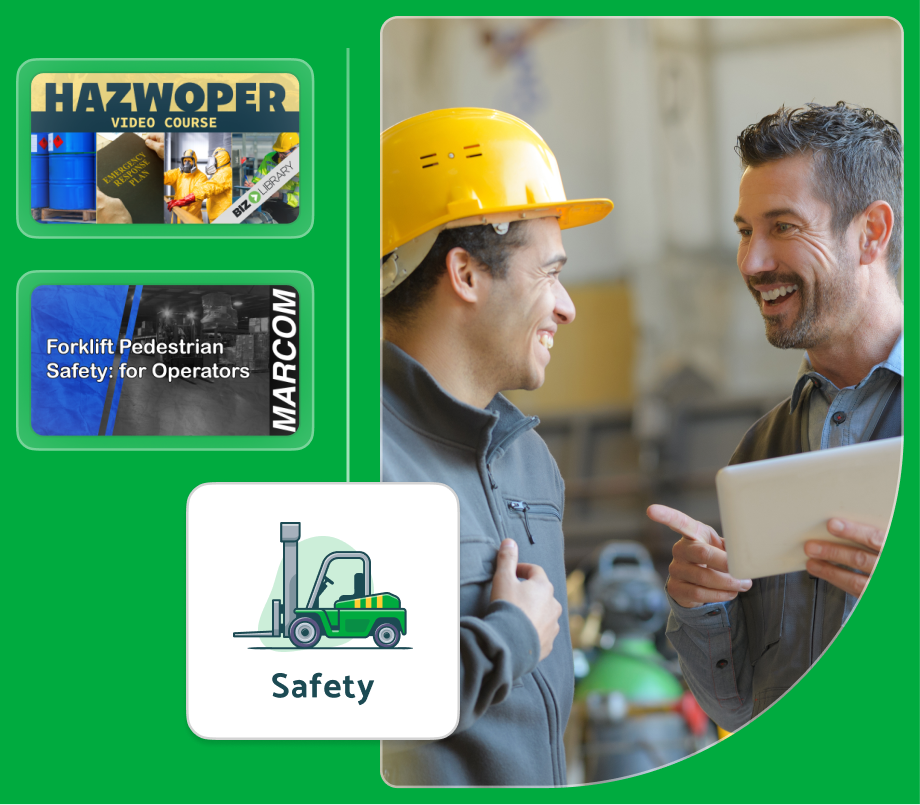 Key Topic Areas for
Workplace Safety Training Programs
Safety Processes
Emergency planning
Crisis management
Company safety protocols
Accident reporting
Auditing
Injury prevention
General Safety
Active shooter
Fire protection
First aid
OSHA / OHSA Compliance
Safe driving
Psychological safety
Safety for Healthcare
Lab safety
Bloodborne pathogens
PPE
Compassion fatigue
Patient handling
Violence in healthcare
Safety for Manufacturing
Creating a safe industrial workplace
Slips, trips, and falls
Hazard recognition
Safety for Construction
Electrocution hazards
Ladder safety
PPE in construction environments
Safety for Restaurants and Hospitals
Food handling safety
Hazard Analysis Critical Control Points (HACCP)
Check out our comprehensive Safety program playbook
Get the step-by-step guide on how we'll help you build safety training programs that work (and your employees don't dread!)
How BizLibrary Helps Prevent Workplace Accidents
While Reducing Costs
Engaging Microlearning Content
Forget the long and boring training videos of the past – our interactive microlearning content helps your team stay focused and engaged for maximum retention. Our variety of formats and producer partners, including Vector Solutions, ensures that your team has multiple training options.
Browse Our Library
Robust Reporting Capabilities
BizLMS's comprehensive reporting dashboards empower administrators to reach 100% compliance on important safety training topics. Use BizLMS to assign, schedule, track, and deliver training, plus much more – all within a single platform.
Meet BizLMS
Hybrid Training Facilitation
Get all your learners in the same room – from anywhere in the world. Our Hybrid Classroom's attendance tracking, video and audio capabilities, polls, and other features give administrators all the tools they need to manage both virtual and in-person training directly from BizLMS.
See Hybrid Classroom
Industry-Specific Safety Content
Work hand-in-hand with the BizLibrary Content Team to take advantage of our industry-specific safety content and specialty libraries. BizLibrary is also capable of custom-producing content specific to your business, policies, and/or equipment. Our Content Team fulfills over 100 client requests a year!
View Course Catalog
This [BizLibrary partnership] helped employees with their job performance, maintaining certifications, and retaining their knowledge. We also had employees looking at OSHA trainings or other trainings that they weren't currently assigned to, but they were going on their own and looking to educate themselves.
Anthony Billy
Navajo Tribal Utility Authority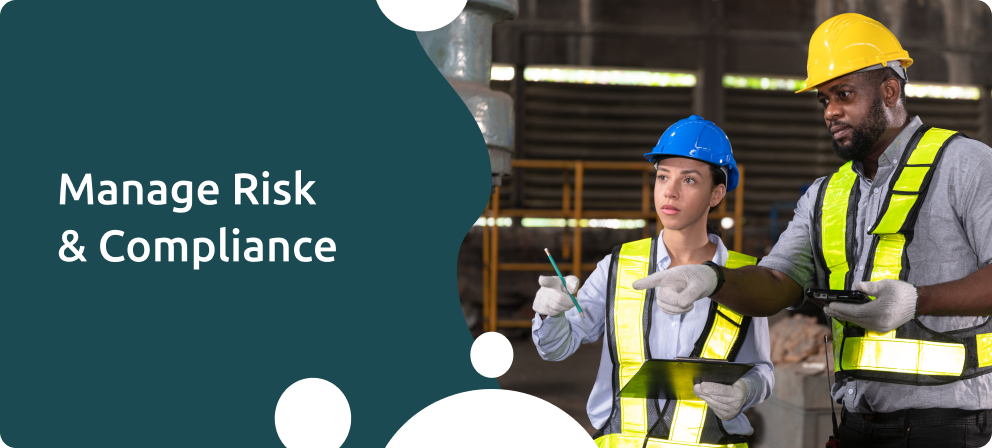 Improving Safety at Navajo Tribal Utility Authority
When selecting a partner to help accomplish NTUA's safety goals, it was important that they could create a more formal safety training program, along with providing a robust content library so employees could consume whatever they felt might benefit them alongside the mandatory training assigned. Since partnering with BizLibrary, they've formulated a weekly training program that gives employees the opportunity to learn whenever is convenient for them.
Read the Story
More Ways We Can Support Your Training &
Development Programs