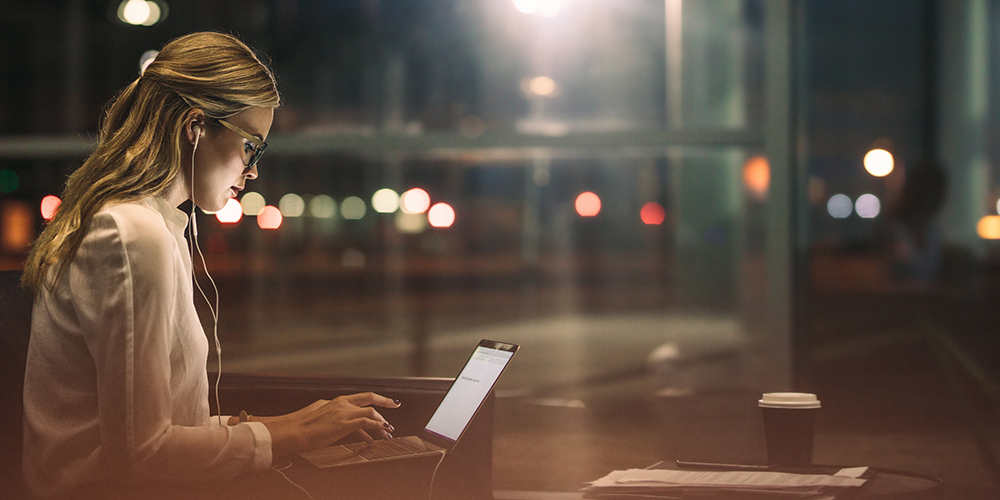 The most up-to-date research we have on the average cost of training per employee comes from a 2018 Training Industry Report, which tells us that the cost is variable based on the size of your organization.
In 2018, across all industries, organizations with 100-999 employees spent about $1,096 per employee, organizations with 1,000-9,999 employees spent about $941 per employee, and companies with 10,000 employees or more spent $1,046 per employee on training.
If that number seems high to you (and it certainly did to us) worry not. When you look at everything that goes into training, from the time investment, to the salary for training managers, that number begins to look more manageable.
The challenge facing organizations is determining if that budget is a wise investment.
To do that, we have to evaluate the real costs of not training employees and compare those costs to the return on investment we can extract from effective training.
Is the Cost of Training Employees Worth It?
Deciding to take employee development seriously can be intimidating – many employers are hesitant to provide training due to the cost, the time investment, and the omnipresent risk that their investment will go to waste if an employee leaves.
These fears are valid – it's common for companies to spin their wheels trying to find the right training strategy, at the cost of results, and employee turnover is a consistent risk across all industries.
What then, would cause an organization to make such a seemingly risky investment?
First, Gallup reports that 87% of millennials say professional development is important in a job. Since these professionals make up the largest single demographic in the workplace, the risk of not having development opportunities in your organization far outweighs other concerns.
Robert Half writes in a blog "If your team members don't feel challenged, or they sense stagnation in their careers, they'll look for advancement opportunities elsewhere." Certainly, fear of turnover is a valid risk, but it's a risk that increases incrementally when development isn't available.
Secondly, your organization's employee engagement hinges on development, which we've written about at length in this ebook.
When employees don't feel valued and developed, they become disengaged, and loss of engagement always equals loss of money. Gallup estimates that $300 million is lost each year due to actively disengaged employees.
Training doesn't have to be an expense – with the right strategy, it's an investment that can lead to tremendous returns – here's how Club Fit and Tarrant Regional Water District are doing it:
Club Fit
See how Club Fit lowered their turnover and exceeded their sales goals after partnering with BizLibrary! Read more.

Tarrant Regional Water District
Tarrant Regional Water District revamped their training program – saving thousands in the process! Read more.

To bring it down to an organizational level, a study by the Center for American Progress estimates that the average cost for losing a single employee with an average salary of $60,000 could cost the company anywhere from $30,000-$45,000 to replace. A highly trained executive position could cost up to $255,600 to replace.
By offering training, you're meeting the needs and wants of your employees, and when implemented correctly, you can reduce your turnover. Don't just take our word for it – check out these BizLibrary clients who leveraged their training to reduce turnover, while simultaneously increasing revenue and lowering expenses:
So how does an employee training program produce these bottom-line financial results?
Employee training addresses the root issues of engagement and turnover in addition to providing support for sales, customer service, safety and compliance, and more.
By making room in your budget for employee training costs, you're not only getting vital information into the hands of your employees quickly and easily, but you'll also empower them with soft skills training, which will develop them in their role and in future roles within your organization.
Organizations shouldn't look at training as simply another cost – it's an investment. A good training investment will allow organizations to see increased revenue and reduced costs-to-operate.
Maximize Your Employee Training Costs to See High ROI
Putting a training program in place without a strategy behind it is an ineffective use of training budget. Training programs can be agents of real change in your organization, but it takes a deliberate strategy to make that happen.
Training needs to be tied to a business outcome – to do that, you need well-developed goals and metrics for training.
Start with a why – why is a specific training event occurring?
Let's use an example with an organization looking to increase the amount of deals they close.
Offering generic sales training won't work – here's why:
Any business challenge is a symptom of some process that has broken down. Many organizations use a sales model that involves a more junior employee qualifying potential clients, and a more senior sales representative who creates solutions for potential clients.
Following this model, the best sales closing training in the world won't bridge the gap between desired outcomes and real results if the process that has broken down occurs in the qualifying stage, before the prospect has reached your closers.
If we break down the process, the hypothetical situation will look something like this:
The problem
The organization is not closing enough deals to make its revenue goals.
The broken process
Junior employees don't have the skills to qualify the right prospects, making it harder for your senior reps to talk to the right people.
The wrong solution
Focusing on training senior reps to improve their closing skills.
The right solution
Offering training to your junior reps to help them better identify the right prospects and get them to your closers.
Identifying objectives is important, but digging deeper and discovering why your processes are breaking down is a crucial part of this step.
Offering the wrong training will waste your training budget and make it more difficult for you to champion learning in your organization. But identifying the broken process and using training to improve it will prove to your leadership team that the cost of training employees is worth it.
Measuring your ROI is difficult, but doable for a dedicated professional. Be sure to check out our free ebook on measuring training – Unpacking Kirkpatrick: Data-Driven Decision Making in L&D.
You should have some idea now that strategy is the driving force behind optimizing your training budget – when you begin looking at the benefits, the cost of training per employee become significantly less daunting, and the potential for returns becomes significantly more substantial.
Keep Costs Down with Training Reinforcement
A German psychologist named Hermann Ebbinghaus is credited with first hypothesizing the forgetting curve.
This theorizes that the amount of information we retain after a learning event decreases exponentially over time – this is corroborated by studies that show we forget as much as 60% of what we learn after 48 hours.
Think about what this means for your training – if the goal of your training event is to teach an employee something new, then with no intervention afterward, the forgetting curve wastes 60% of your training budget.
The good news is that overcoming the forgetting curve is possible – and while there are tools to help you do it, you can improve retention with little impact to your training budget.
The first strategy you should be using to improve your training effectiveness is administering tests.
A research paper from the University of Vanderbilt referenced a pretty famous study that we analyzed in-depth in our learning science ebook. The study showed that testing is one of the most effective ways to increase learning retention.
It compared three groups of students – one group who studied a set of photographs four times, a second group who studied the same photographs three times and were tested once, and a group who studied the photographs once and were tested three times.
The three groups were asked to recall the photos five minutes later, and then also a week later. The results speak for themselves.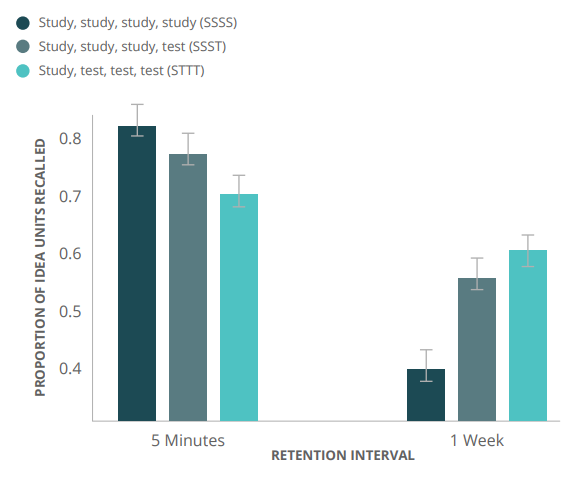 After one week, the group who was tested the most recalled the most – and that's not even a fully optimized testing strategy. If you'd like to read more about learning retention strategies, be sure to download the learning science ebook.
The best way to think about your training budget is as an investment. With the right strategy, and a concerted effort to bring change through training, you can begin to see meaningful ROI from your training program.
If you'd like to learn more about improving your ROI and measuring the results of your training program, be sure to download our free ebook on understanding the Kirkpatrick Model.