Training is often seen as a burdensome and time-consuming part of employment. But as research and practical experience have shown, effective training doesn't have to be lengthy, classroom-style seminars to get messages across anymore. Hours don't have to be spent coordinating and facilitating every training event.
With microlearning (also known as bite-sized learning or just-in-time learning), training can be delivered in short bursts of content that can fit into anyone's hectic schedule.
What Is Microlearning?
Microlearning delivers knowledge and skill development in bite-sized bursts. It can be delivered via text, video, ebook, interactive multimedia, and more, but it is always short, usually less than ten minutes.
Think about this: advances in technology available to the public have generated an explosive growth of video creation, viewing, and sharing on social media. Gathering information from watching a video has become a primary method in the past decade for learning just about anything. So microlearning isn't exactly a new concept.
On top of that, research from Bersin by Deloitte shows that modern employees have so many distractions, that on average they get no more than five minutes of uninterrupted work time.
The microlearning format fits perfectly into the needs of contemporary workplaces. Short videos can be accessed for learning on the job, and they allow employees to stay engaged in the subject without having to constantly navigate away from it.
Microlearning does not just have the advantage of watching a training video in a short amount of time. It is a tool that can aid in multiple ways.
Microlearning Benefits
With microlearning, there's no need for a conference room with a paid instructor to cover a broad spectrum of topics. Microlearning can be created for special one-off instances, or reoccurring situations that need to be consistently updated. The most beneficial and cost-efficient way to deliver microlearning to your workforce is investing in a library of off-the-shelf content. 
Here are some benefits of microlearning: 
Easily accessible via phone, tablet, or home computer
Customizable topics and subtopics
Relaxed approach to learning
Cost efficient
What Topics Can Microlearning Cover?
While technically microlearning can cover a broad range of topics (look at all the how-to videos on YouTube), for training purposes, there are several important topics that can be delivered in a micro video format.
Compliance Topics
Policies and procedures are typically only discussed when a new employee starts a job and not covered again. From bullying to discrimination to anti-harassment, you and your employees should know how to see it and what to do if it happens. With a more thorough understanding of workplace harassment through easily digestible lessons, you and your employees are better equipped to help a victim, file a harassment complaint, and champion for additional training.
With The BizLibrary Collection, you can access a full library of microlearning that covers topics for all your employees' needs, from leadership management to compliance. Check out this preview of one of our HR Compliance videos: 
Software and IT
While many employees do not concern themselves with IT issues in their day-to-day work routine, microlearning can help your staff better understand basic cybersecurity, or latest trends and techniques in software applications like Excel, Microsoft 365, Google Drive, etc. Microlearning is customizable and aligns with the constant changing climate of technology.
Here's a preview of one of our many IT training videos:
Workplace Safety
It's vital to know what hazards exist in your workspace and how important it is to use good safety practices. Accidents and injuries can happen anywhere, so making sure everyone is aware and following best practices will help to keep them safe.
Micro videos can break down each part of safety training into manageable chunks, so the learner isn't overwhelmed with information. Here's a preview of one of our many workplace safety training videos:
Leadership and Management
Microlearning is beneficial for all positions in the workplace, especially management. It is important for leadership to make sure they have training content covering how to motivate employees and enhance communication skills among teams.
This list barely scratches the surface, but these are a few other examples of popular topics for microlearning:
Is Microlearning Effective?
More than $350 billion has been spent globally on learning resources for companies. Worldwide, 71% of L&D departments reported using in-house online training, and that number is only expected to grow as 41% have said they plan to invest more in the future.
In the study "Micro Learning: A Modernized Education System," 81% of respondents said that microlearning is the best learning system for their working environment.
This data shows that employees see the highest value in training that's available in the moment of need.
So, as opposed to classroom training and long elearning courses, microlearning's effectiveness is seeing an increase right out of the gate through higher engagement. But what about the learning retention required once people are engaged in training?
According to the Ebbinghaus Forgetting Curve, humans tend to forget more than 50% of information they take in within one hour. That number grows to more than 70% within 24 hours.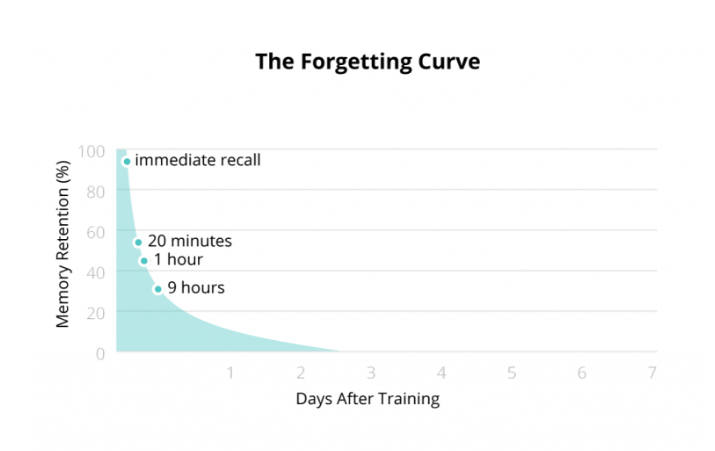 Microlearning helps boost retention by keeping the information delivered in small doses, which avoids cognitive overload (more on that in the next section). Including reinforcement methods such as quizzes, supplemental materials, and follow-up questions can potentially boost long-term retention rates above 90%.
Adding in gamification only boosts results as well. When asked, 72% of employees say turning learning into a game drives up their motivation and 90% feel more productive, according to Medium.
Check out our blog "Today's Best Methods for Employee Training Effectiveness and Results" for more examples and best practices with using microlearning in training programs.
What About ROI?
Some of the skepticism surrounding microlearning videos pertains to how short they are – that they couldn't possibly deliver enough information for someone to really learn something. The research on cognitive load theory supports the opposite conclusion, though.
Cognitive load refers to the amount of information short-term memory can hold at one time, before it is either transferred to long-term memory or forgotten. When training sessions are too long, the brain can't process it all.
Providing short bursts of training allows more of the information to be taken in, processed, and encoded to long-term memory, rather than going in one ear and out the other.
When microlearning is delivered in a consistent, ongoing way, you have the ability to drive continuous learning, build up knowledge over time, and produce long-term behavior change. These are the kinds of changes that allow for better communication, collaboration, and innovation.
Organizations that recognize the importance of fostering continuous learning are the ones that will have a much better chance of outlasting their competition and becoming a place where talented, committed people come to work.
To learn more about how to make the best decision when selecting your company's online content provider, be sure to check out our infographic: