I think we can all agree that first impressions are pretty important, right? At BizLibrary, we feel the same way about Implementations, which is why we do our best to set you up for success right out of the gate. Our Implementation and Customer Success teams work with your organization to create learning programs that are built to take off from Day 1. And that's not even the best part – our Implementation services are completely free!
We don't believe that a client should be charged even more money to ensure their program has a successful launch. If you're interested in learning more about the different factors that drive the price of an online learning solution (as well as things that other vendors will upcharge you for right out of the gate), check out this Pricing Guide webinar we have available for you to view on-demand.
The Dream Team
Implementation is an all-hands-on-deck process – it's difficult to do it alone. Luckily with BizLibrary, you don't have to! You have a personalized team of Bizzlers who are dedicated to making sure your Implementation experience is smooth sailing. Here is the cast of characters you can expect to meet on your Implementation journey:
Client Account Executive – You've got big plans, and your CAE will provide a personalized suggestion on which BizLibrary solutions will help turn those plans into reality.
Client Experience Manager – These are the goal-setters and goal-getters that will work directly with your team to identify your first initiative and how to make it happen.
Client Delivery Manager –Together you'll tackle technical onboarding and they'll make you feel like a pro in the system in no time. They make the magic happen behind the scenes with administrative set up.
Client Success Manager – Your CSM is your ongoing partner in training and will ensure you have all of the best practices for your program and will cheer on your continued success. Strategy is their middle name!
Our CSMs form lasting relationships with their partners, and our current clients can't say enough about how instrumental that relationship is to the success of their programs. We could list quotes here forever, but we'll leave you with just one to help set the stage.
I love working with our BizLibrary Team. They are so helpful and responsive. We have great conversations, and they're very strategic. [It's clear] that they want to be a great business partner to us, not just solely focusing on the content they have, but understanding our business challenges and how they can help support us and be more successful."

Demi B., Organizational Effectiveness Consultant at Together Credit Union
Measure Your Wins
After launch it's time to review, measure your wins, adjust if necessary, and keep on succeeding! We measure success at BizLibrary with three methods:
Utilization – Elective consumption and assignment completion
Qualitative – Employee satisfaction, behavioral changes, and general sentiment
Quantitative – Employee retention, internal promotions, safety incidents, and HR-reported incidents
Using all three of these methods will give you the fullest picture of the performance and success of your L&D programs. You can even track utilization successes directly from BizLMS!
"The BizLibrary partnership has helped employees with their job performance. In the past, we had a lot of employees who had no training at all. This helped provide them with more training, maintaining certifications, and retaining their knowledge. We also had employees looking at OSHA trainings or other trainings that they weren't currently assigned to, but they were going on their own to educate themselves."

Anthony B., of Navajo Tribal Utility Authority
Success in Action
At BizLibrary, we are very proud of all our clients and want to showcase them however we can! While you should definitely check out our Success Stories for more examples of awesome clients, we wanted to showcase two stories here.
State Electric Supply Co., is based out of Huntington, West Virginia, with employees located across seven states. They needed a training partner that was going to help them tackle compliance, a dispersed workforce, leadership training, new managers, addressing skill gaps, and succession planning. On their FIRST DAY kickoff, their training program had:
Over 90 unique employee log-ins
Almost 300 courses launched, with 260 completions!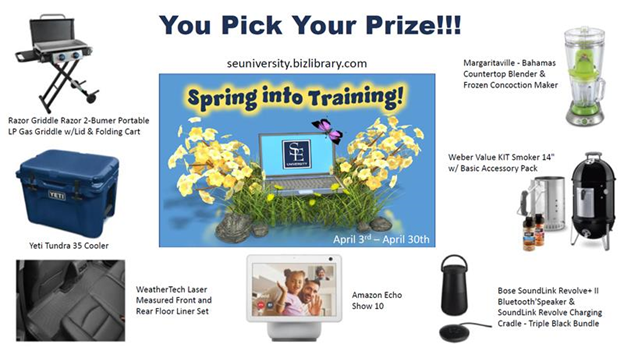 This was the result of a great partnership between State Electric Supply Co.'s Corporate Human Resources Manager and their BizLibrary Learning Experience Designer. John V., Training and Development Specialist at State Electric Supply Co., even said this of their partnership with BizLibrary – "Our Client Experience Manager is the best! We could never have made it this far and through our launch without her. She is kind and patient, very knowledgeable, and is quick to respond. She represents BizLibrary incredibly well and should be recognized in every way possible."
Since their launch day, State Electric Supply Co. Is up to 91% utilization and at 6,125 content launches and counting!
Another incredible success story we wanted to share with you here is the one about our friends at DFC Company.
DFC Company has been serving Montana, Wyoming, and the Dakotas with premier building of parks, playground, and athletic equipment since 1972. However, they recently found themselves growing rapidly and in need of a way to train their leaders and other employees quickly and at scale. They worked with BizLibrary to launch DFC Academy, an upskilling and reskilling program to internally develop their employees.

They have developed over 104 unique roles in BizSkills to help their employees develop their careers and grow internally!
In fact, DFC Company's training initiatives were so successful that they became a 2023 Best in the Biz Awards winner! DFC Company's training program was awarded the Off to the Races Award for the best new program launch.
We want [our employees] to see that within in DFC Company, they not only have a job, they also have a career. We want them to stay here as long as they can."

Natalie Feldhake, Manager of Employee Engagement and Development
Natalie and Joe Currier, President and CEO of DFC Company, have both released videos talking about the impact they would like DFC Academy to have on their employees. We are so proud of our clients and the investments they make in their people. Learning and development can be a powerful tool for employee retention and positive culture.