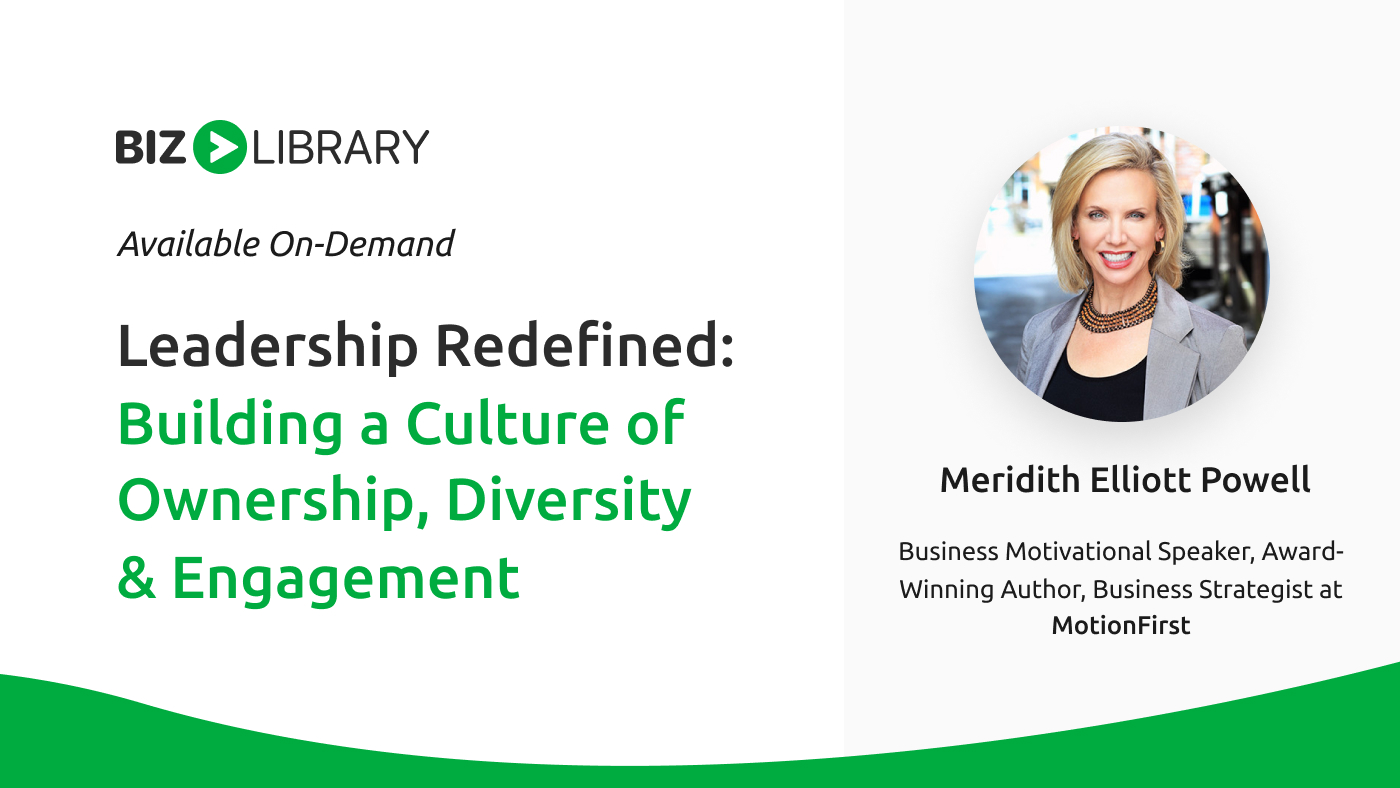 Leadership Redefined: Building a Culture of Ownership, Diversity & Engagement
Thursday, June 29, 2023, 1:00 pm CT
Building a strong team is your fastest path to growth and profitability. Today's marketplace is highly volatile, and change is happening on steroids. As a leader, you know there is so little you can control. But the quality of your team is the one thing you can, and it arguably is the most impactful.
Creating a team that is highly-engaged, takes ownership, and is strategically-diverse puts you in the best position to drive innovation and get results.
In this high-energy, and highly-interactive program, Business Growth Strategist and Keynote Speaker, Meridith Elliott Powell, shows you how to build a culture that attracts today's top talent, develops strong levels of engagement, and ensures inclusivity and ownership to increase retention and builds your leadership bench.
Everything about today's marketplace has shifted, so would it make sense you need a new approach to leadership? Developing a team to meet today's market demands, calls for a leader that understands how to tap into the power of ownership, engagement, and diversity.
You'll learn:
Why engaging today's employees is different, and gain the leadership development strategies to understand what employees want, and how to easily and effectively deliver time and time again.
An innovative approach to tapping into the power of diversity on economic drivers, employee retention, and leadership development.
Proven strategies to get the best and the brightest to beat a path to your door even in the toughest environments.
Cutting-edge strategies to creating culture the meets all three requirements for success– ownership, engagement, and diversity.
Powerful tactics to build a team that is as passionate and committed as you are about the growth of your business.
Your personal plan of action to turn attrition into attraction.
Brought to you by your presenters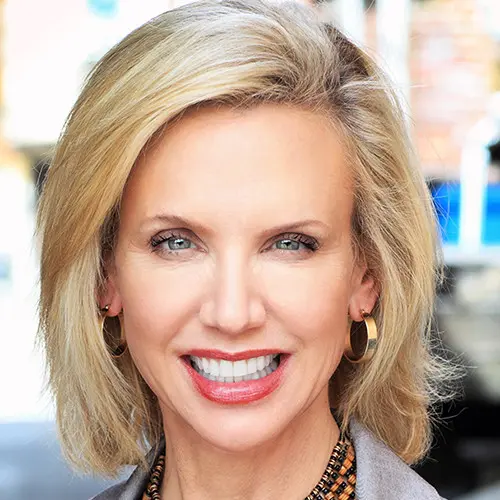 Meridith Elliott Powell
Business Motivational Speaker, Award-Winning Author, Business Strategist
MotionFirst
Voted one of the Top 15 Business Growth Experts to watch by Currency Fair, Meridith Elliott Powell is an award-winning author, keynote speaker, and business strategist. With a background in corporate sales and leadership, her career expands over several industries including banking, healthcare and finance. Meridith worked her way up from an entry-level position to earn her seat at the C-Suite table.


BizLibrary is an approved credit provider for HR Certification Institute (HRCI), the Society for Human Resource Management (SHRM-SCP® or SHRM-CP®), ATD Certification Institute (CPTD/APTD), and Training Industry (CPTM). Viewing this webcast in its entirety qualifies for 0.5 recertification credit hour towards each credential. Learn more on our accredited content page.
FAQ
Q. What platform do you use for your webinars?
A. We use ON24 as our webinar platform.
Q. Do I need to download anything to attend?
A. No, ON24's interface does not require a download. You'll just need to make sure you have Adobe Flash enabled and for best results, close down any extra browser windows.
Q. How do I listen in to the webinars?
A. To listen in, you will need a pair of headphones or computer speakers. We do not provide a dial-in number for attendees.
Q. How early can I join the webinar?
A. The webinar room will open 15 minutes before the webinar starts.
Q. Do you recommend a certain browser to watch the webinar?
A. After 3/21/20, ON24 will not support Internet Explorer. We recommend using a supported browser, such as Microsoft Edge, Google Chrome, or Mozilla Firefox to view the webinar.
Q. Do you offer credits for your webinars?
A. Yes, most of our webinars are approved for one hour of HRCI and SHRM general credit. In order to be approved for credits, you must attend at least 50 minutes of the webinar.
Q. How do I know if the webinar is approved for credits?
A. If a webinar is approved for SHRM or HRCI general credits, the registration page will have the SHRM and HRCI badges at the bottom of the page. If you have any questions regarding credits, email kmiller@bizlibrary.com.
Q. How will I receive my HRCI and SHRM certificate?
A. If you have attended for 50 minutes of an approved webinar, there are a few ways you can obtain your certificate. First, you can download the certificate from a widget in our platform. If you forget to download the certificate during the webinar, an email will be sent with the certificate about 2 hours after the webinar is complete.
Q. If I'm not able to watch the webinar at the live time, can I watch it later?
A. Yes! We understand that you might not be able to watch the webinar at the live time, so we offer our webinars on demand. On-demand webinars are available up until 12 months after the initial live webinar date.
Q. What if I am having trouble accessing the webinar?
A. The webinar room will open 15 minutes before the live time. If you are still having issues attending, email kmiller@bizlibrary.com.