DIVERSITY AND INCLUSION TRAINING
FOR YOUR ORGANIZATION
Looking for employee training content for your team? Browse the topics and courses available in The BizLibrary Collection, our award-winning content library for organizational learning & development!
Benefits of Diversity and Inclusion Training
Diversity and inclusion training (D&I) has the potential to positively address biases and prejudices that may happen within an organization. Showing that D&I is important to your organization as well as your training strategy will go a long way in showing dedication to creating a truly inclusive workplace. Having and implementing that strategy has many benefits for your people and your business.

Providing this training can help boost talent retention. When you focus on both diversity and inclusion and show employees that they're welcome in your organization, that helps to retain talent. Employees who feel underappreciated or left out are more likely to be unhappy and, ultimately, leave.

When employees feel welcomed and accepted, they tend to feel more satisfied. Today's workers want employers that not only don't discriminate, but that also encourage openness about differences. Creating an inclusive, diverse environment helps drive up business value because employees are more fulfilled by the work they do, and therefore strive for higher quality work.

Having a more diverse team can boost productivity and innovation as well. Differing perspectives offer more creativity and idea generation and team members can learn from one another. With more diverse skillsets, life experiences, and ideas, organizations can produce and create in more innovative ways.

Diversity and inclusion training can help hiring managers, and even those not in a hiring role, tackle their own unconscious biases while in turn helping to build more diversity within the organization. Because unconscious biases can affect thoughts and actions in substantial (and often harmful) ways, it's important to learn what they are and how to minimize their impact.
Establishing a D&I Training Program
As with many things in business, there isn't a one-size-fits-all approach to training. You have to create the plan that is best for you, your organization, and your employees. You will need to look inward and do some self-reflection, conduct fact-gathering initiatives such as surveys and focus groups, assess your company culture, and identify any unresolved conflicts and issues employees face. Once you've done your research and analyzed the data, you are ready to begin.

First you will need to develop your objectives and goals for this training program. They should suit your organization's needs, history, and culture. The content included should take an actionable approach to the data and examples you found in your fact-finding surveys and focus groups.

Next, establish a clear, detailed definition of what the program looks like. Your D&I training program should provide ways to engage in respectful interactions, while reducing discrimination and prejudice based on factors such as race, gender, ethnicity, sexual orientation, disability, etc.

The plan should target all your employees and address issues including microaggressions, unconscious bias, and cross-cultural communications. This will allow your program to progress toward employees working well together and experiencing different perspectives instead of just sitting stagnant in a state of tolerance.

To see the best results, D&I training should be spread over an extended period of time, and not just a once-a-year occurrence. Instead of having annual benchmarks you have to meet, roll out your training program in phases rather than dumping all the content on your employees at once. Allow them to take in the training over a scheduled amount of time so they can actively take in each lesson and apply it in their daily work and interactions. This helps the training to be retained, so the lesson isn't immediately forgotten.


Rolling Out Your Training Program
When you are ready to roll out your training program, consider an integrated approach. Employees respond to training when it includes multiple kinds of instruction, including classroom and online training, discussions, and exercises. Not every person learns the same way, so having a hybrid-style approach will work for many learners and further expand your mission of inclusivity.

These programs will be more successful if your company has other initiatives in place, such as mentoring or networking groups for underrepresented groups. You can integrate diversity and inclusion training by utilizing these relationships and having discussions about company culture, employee satisfaction, etc. Then, set up D&I training so it's infused in your culture from the beginning by being part of every employee's onboarding journey.
Embedding Diversity and Inclusion in Company Culture
Diversity and inclusion training is obviously important, but it's about more than providing information. It's a springboard to turn your company culture into one that highly values diversity and all the ways it helps your employees and your business grow and prosper. Training employees at all levels in these areas is vital to helping them reflect on their unconscious bias and how it shows up, be open to change, speak and behave differently, and actively create and promote inclusivity.
When the culture is one where people feel they are valuable and making a difference, that ensures they're comfortable putting their best foot forward. Fostering a workplace where all employees can feel confident in who they are and what they bring to the table is a powerful way to drive creativity and innovation.
Get access to a few of our D&I training videos through this free playlist – then simply request a demo to view our entire library of over 9,500 employee training courses!
Using Online Training to Promote Diversity and Inclusion
Online training is quickly becoming the best way to teach employees some of the skills they need to do their jobs. Numerous studies have shown that online training is often more effective, and learners retain more information than with classroom training alone.
BizLibrary curates a large and diverse video training library with numerous courses focused on developing all types of interpersonal awareness and skills. Our micro video format breaks content up into smaller, more manageable chunks, making it easier for employees to learn and apply these skills on the job.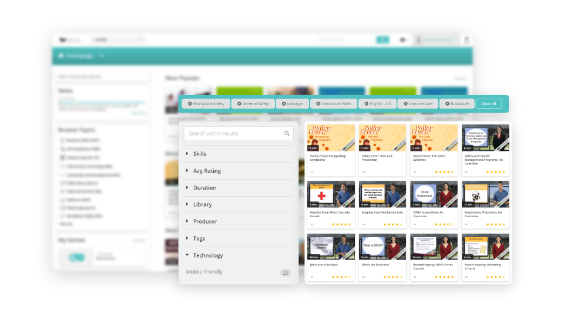 Explore more
of our employee
training topics.
These online courses can be viewed on an individual basis – where employees learn by themselves at work or at home – or as part of a group training environment or discussion. They also utilize modern learning strategies that engage learners and reinforce content, so the information isn't forgotten.
Church of the Resurrection came to BizLibrary after seeing rapid growth. In 2016, they had grown to four locations in and around the Kansas City, MO area and had an online presence as well. With this growth they knew they had a new set of challenges.
They were frequently needing to promote employees into management roles where they were not only managing for the first time, but also managing former peers. Leaders recognized that business needs were changing, and decisions were being made and implemented quickly. With their dispersed workforce, they knew they needed a formalized and comprehensive system that would deliver the same message across the board that would focus on compliance training.
They really wanted to focus on diversity awareness and anti-harassment while striving to provide a culture of development and engagement across all levels of the organization. They also needed a way to ensure consistent delivery and tracking, coupled with a wide variety of content to cover all areas.
Their program, Rez Academy, was launched with the lofty goal of 100% compliance, and by having two lunch and learns to introduce the new platform, they quickly achieved their goal of 100% diversity awareness training completion.
By partnering with BizLibrary, new managers have gained confidence in their roles and 40% of staff participate in additional optional training on topics like diversity awareness and inclusivity.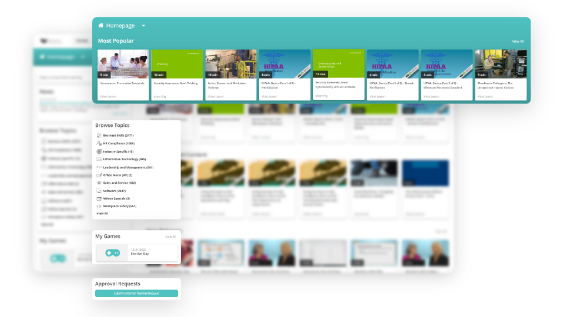 Learn how
BizLibrary's online
learning solutions can
transform training in
your organization.