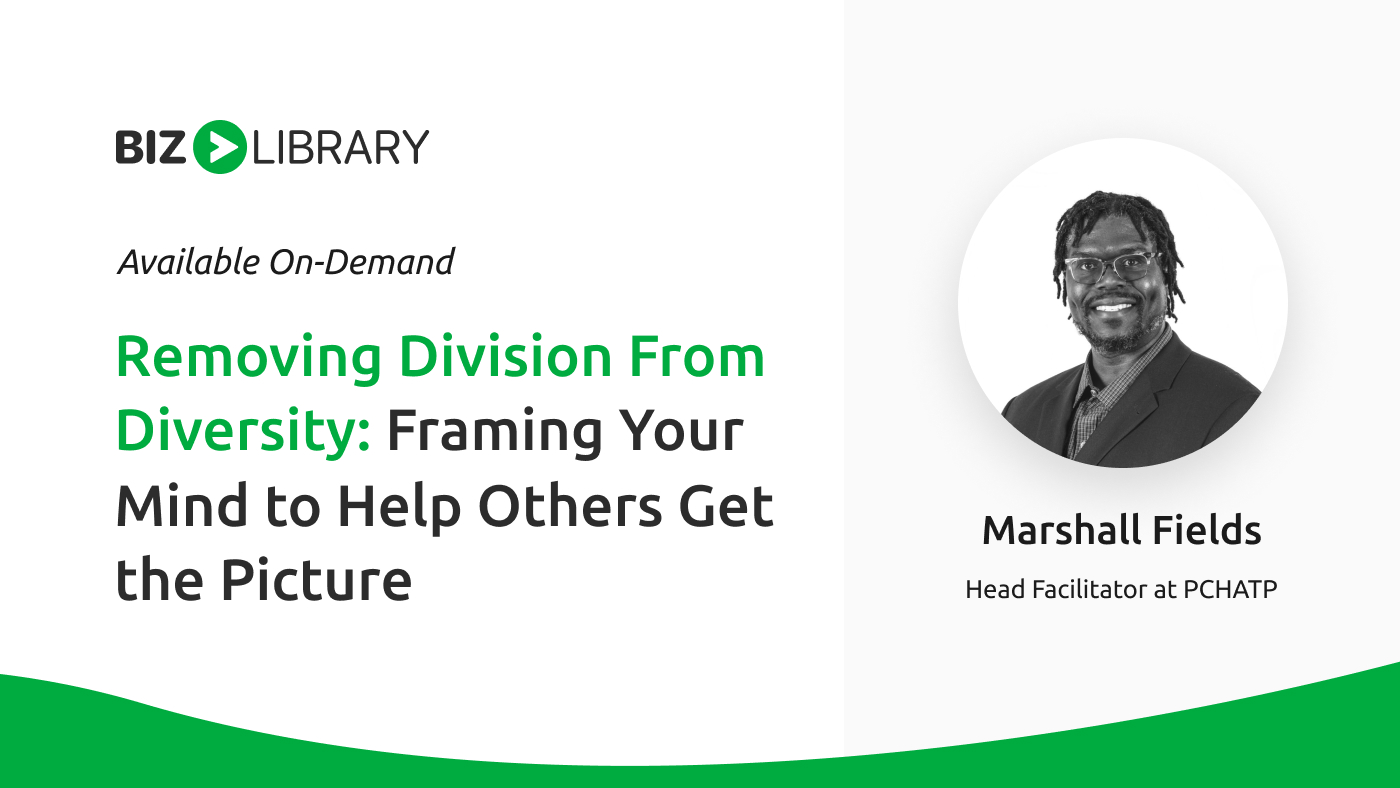 Removing Division From Diversity: Framing Your Mind to Help Others Get the Picture
Wednesday, June 14, 2023, 1:00 pm CT
Highlight the importance of DEIB, bring awareness to the obstacles of program implementation, and promote solution-minded thinking with this webinar, Removing Division From Diversity: Framing Your Mind to Help Others Get the Picture. Doing good for goodness's sake sounds…good, right? However, with the increased focus on corporate social responsibility and work cultures, it is not simply right, but necessary. A lack of diversity in leadership can increase the difficulty of getting DEIB initiatives approved. Acknowledging the barriers in a way that creates partnership can move us from motivating change to inspiring it.
During this webinar, Marshall will cover:
Composition of Inclusion – Breaking down 6 points of inclusive environments 
Equality
Diversity
Equity
Acceptance
Belonging
Justice
Map Versus Terrain – Navigating toward an ideal while embracing reality 
Resistance to change
Lack of awareness
Resource constraints
Lack of buy-in from leadership
Limited time and availability
Fear of backlash
Resistance from dominant groups
Challenging Perspectives not People – Thinking outside the box of compliance and inside the box of compassion 
Motivation versus Inspiration
Evolving a perspective is easier than changing a mind
Protecting the people protects the company
Brought to you by your presenters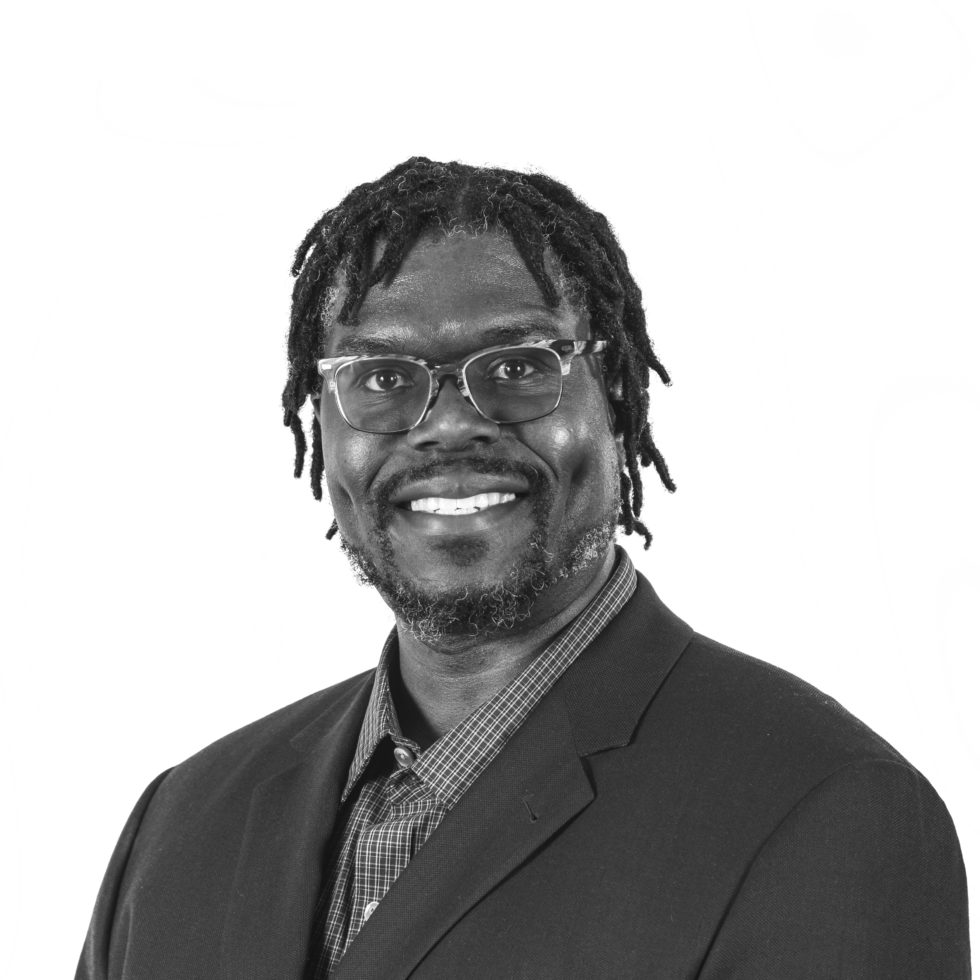 Marshall Fields
Head Facilitator
PCHATP
Marshall Fields is a visionary leader and trailblazer in the fight against systemic racism, with over 20 years of experience as a spearheading Corporate Facilitator, Author, Life & Executive Coach, and Master Communicator. He has acted as a communication broker for thousands of individuals, conducting training sessions, workshops, magazine publications, podcasts, and media interviews. Marshall founded PCHATP, an organization that started as a podcast focused on creating Positive Communication Habits and Thought Processes. In addition to his professional pursuits, Marshall is also deeply committed to serving his community. He serves as Board Chair for the Legacy Equine Academy, a Community Liaison for I Was Here project; an award-winning spirit project, and as commissioner of the Racial Justice and Equality Commission in Lexington, KY. Marshall has dedicated his life to promoting equality and positive communal change. His passion and expertise in the field of communication have made him a sought-after speaker, facilitator, and mediator.


BizLibrary is an approved credit provider for HR Certification Institute (HRCI), the Society for Human Resource Management (SHRM-SCP® or SHRM-CP®), ATD Certification Institute (CPTD/APTD), and Training Industry (CPTM). Viewing this webcast in its entirety qualifies for 1 recertification credit hour towards each credential. Learn more on our accredited content page.
FAQ
Q. What platform do you use for your webinars?
A. We use ON24 as our webinar platform.
Q. Do I need to download anything to attend?
A. No, ON24's interface does not require a download. You'll just need to make sure you have Adobe Flash enabled and for best results, close down any extra browser windows.
Q. How do I listen in to the webinars?
A. To listen in, you will need a pair of headphones or computer speakers. We do not provide a dial-in number for attendees.
Q. How early can I join the webinar?
A. The webinar room will open 15 minutes before the webinar starts.
Q. Do you recommend a certain browser to watch the webinar?
A. After 3/21/20, ON24 will not support Internet Explorer. We recommend using a supported browser, such as Microsoft Edge, Google Chrome, or Mozilla Firefox to view the webinar.
Q. Do you offer credits for your webinars?
A. Yes, most of our webinars are approved for one hour of HRCI and SHRM general credit. In order to be approved for credits, you must attend at least 50 minutes of the webinar.
Q. How do I know if the webinar is approved for credits?
A. If a webinar is approved for SHRM or HRCI general credits, the registration page will have the SHRM and HRCI badges at the bottom of the page. If you have any questions regarding credits, email kmiller@bizlibrary.com.
Q. How will I receive my HRCI and SHRM certificate?
A. If you have attended for 50 minutes of an approved webinar, there are a few ways you can obtain your certificate. First, you can download the certificate from a widget in our platform. If you forget to download the certificate during the webinar, an email will be sent with the certificate about 2 hours after the webinar is complete.
Q. If I'm not able to watch the webinar at the live time, can I watch it later?
A. Yes! We understand that you might not be able to watch the webinar at the live time, so we offer our webinars on demand. On-demand webinars are available up until 12 months after the initial live webinar date.
Q. What if I am having trouble accessing the webinar?
A. The webinar room will open 15 minutes before the live time. If you are still having issues attending, email kmiller@bizlibrary.com.