How to Become a Change Champion
Presented by: Laura Goodrich
Wednesday, November 13, 2019
1:00 pm CT
What are people saying about BizLibrary webinars?
"This webinar fit perfectly with current topics being reviewed and trained in our company."
- Jennifer L
"The presenter was great. I wish every webinar I attended was this interesting. The presenter made it very exciting."
- Heather E
The marketplace is changing dramatically and dynamically. Few industries and individuals will be exempt. We can't avoid it, and it's fatal to ignore it. But, fear and avoidance is no way to address change. We have to find and create positive outcomes going forward.
Preparing for change can be complicated, especially in the context of a large organization. The markets are always in flux, and when a new technology or system rolls around… BOOM… industries are thrown on their head and companies scramble to figure everything out.
Sometimes, these companies scramble themselves into devastation. Why? Because their change preparedness systems were either lacking or nonexistent.
While many articles, books, and talks strike fear into audiences about problems impacting the changing business landscape, Laura's webinar offers real-world solutions with a positive impact… in a refreshing and inspiring way.
Today, HR, L&D, Strategy, and OD professionals are revamping their systems to better prepare their organizations utilizing innovative tools available to them.
In this session, Laura will share the stories of several innovative leaders who are paving the road to a positive future in very strategic and innovative ways, demonstrate steps to help turn your organization's focus around, and provide stories of how organizations have implemented this successful strategy to move the needle on their collective capacity to change. Leaders will walk away with a clear method of how to lead change and create a positive future for themselves and their team.
When it comes to change, most leaders and organizations focus on structures, processes, and systems. Few even recognize that without an individual and collective mindset for change and innovation their best efforts will fail, especially now.
During this webinar, you'll learn:
What is getting in the way of positive change and innovation
The steps to take to be a change champion
How to create a strategic plan that includes facilitated discussion, coaching, microlearning, and accountability, all spaced over time
Who will help you and who will not
How to assemble ambassadors to support your efforts
How to strategically plan to move the needle with your leaders first, then their team members
How to survey and measure outcomes
PRESENTERS
Laura Goodrich
Keynote Speaker & Author
GWT Next
Laura is an internationally recognized expert in change and the future of work. She has spent over twenty years as an innovator, speaker, coach, and advisor. Her global perspectives on workplace dynamics and change have earned her the reputation as someone who can create positive outcomes in even the most challenging workplace dynamics. She has been identified as a top 20 global thought leaders in the future of work, change management, culture, and technology. Leveraging extensive experience as an entrepreneurial technology leader and global workforce change expert who is always looking for an innovative way to challenge the status quo, she is a valuable asset for organizations that are working on transforming from smaller to larger size, or on change management initiatives and organizational development. Her broad areas of expertise include research, human dynamics, executive coaching, strategic change, organizational transformation, global workforce innovation, and interactive cinematic micro-learning programs. Laura has authored, hosted and produced over ten internationally distributed cinematic microlearning programs for business and industry, she has hosted three television shows and a national radio program. She and her business partner are pioneer producers of Cinematic Microlearning programs that leverage film-making methods, coaching and storytelling into a designed process that drives true change. Laura is the award-winning author and producer of the book "Seeing Red Cars: Driving Yourself, Your Team and Your Organization to a Positive Future, and the Creating a Mindset for Change cinematic microlearning program" It's the culmination of her dynamic philosophy, and two decades of research on trends and the future coupled with extensive experience in business.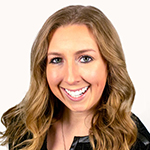 Katie Miller
Webinar Host
BizLibrary
As a Marketing Specialist with BizLibrary, Katie helps facilitate and create educational and engaging webinars geared towards Human Resources and Learning and Development professionals. She conducts research and works with subject matter experts to ensure the BizLibrary audience is receiving the most relevant and up-to-date content possible.
FAQ
Q. What platform do you use for your webinars?
A. We use ON24 as our webinar platform.
Q. Do I need to download anything to attend?
A. No, ON24's interface does not require a download. You'll just need to make sure you have Adobe Flash enabled and for best results, close down any extra browser windows.
Q. How do I listen in to the webinars?
A. To listen in, you will need a pair of headphones or computer speakers. We do not provide a dial-in number for attendees.
Q. How early can I join the webinar?
A. The webinar room will open 15 minutes before the webinar starts.
Q. Do you recommend a certain browser to watch the webinar?
A. After 3/21/20, ON24 will not support Internet Explorer. We recommend using a supported browser, such as Microsoft Edge, Google Chrome, or Mozilla Firefox to view the webinar.
Q. Do you offer credits for your webinars?
A. Yes, most of our webinars are approved for one hour of HRCI and SHRM general credit. In order to be approved for credits, you must attend at least 50 minutes of the webinar.
Q. How do I know if the webinar is approved for credits?
A. If a webinar is approved for SHRM or HRCI general credits, the registration page will have the SHRM and HRCI badges at the bottom of the page. If you have any questions regarding credits, email kmiller@bizlibrary.com.
Q. How will I receive my HRCI and SHRM certificate?
A. If you have attended for 50 minutes of an approved webinar, there are a few ways you can obtain your certificate. First, you can download the certificate from a widget in our platform. If you forget to download the certificate during the webinar, an email will be sent with the certificate about 2 hours after the webinar is complete.
Q. If I'm not able to watch the webinar at the live time, can I watch it later?
A. Yes! We understand that you might not be able to watch the webinar at the live time, so we offer our webinars on demand. On-demand webinars are available up until 12 months after the initial live webinar date.
Q. What if I am having trouble accessing the webinar?
A. The webinar room will open 15 minutes before the live time. If you are still having issues attending, email kmiller@bizlibrary.com.

BizLibrary is a credit provider for HR Certification Institute (HRCI) and for the Society for Human Resource Management (SHRM). Viewing this webcast in its entirety qualifies for a recertification credit hour (general credit) for SHRM and HRCI. For more information visit our accredited content page.