Quala Creates a New Life Skills Program for Employees
Company Size
1,800
Industry
Waste Treatment, Environmental Services, and Recycling
Use Cases
Onboarding, Safety, Leadership Development, and Elective Learning
Who Is Quala?

Quala is the largest independent provider of comprehensive cleaning, commercial parts, testing, and repair services for tank trailers, ISO containers, IBCs, and railcars. Founded in 1986, the company began independent operations in 2009, and today has 120+ locations servicing the most active bulk transportation routes and eight of North America's busiest ports.

Primary Challenge

Employees wanted to learn about life skills such as credit cards, budgeting, and relationship building.

Results

Quala created the LifeTrax program to educate employees, pair them with mentors, while also exposing them to speakers to learn how to improve holistically.
Developing the Whole Person
At BizLibrary we feel strongly in our mission to create a more compassionate and competent future. We start by ensuring our online learning management system has robust features for our training and development leaders to deliver programs effectively and efficiently.
We also prioritize producing and aggregating content that covers a wide range of topics: compliance, happiness at work, investing, and everything in between.  
These differentiators ensure that our clients are set up for success to develop the whole employee—professionally and personally—because our mission doesn't start and stop at one or the other.  
More employees than ever want organizations that provide benefits to help them progress in their careers but also help them in their everyday life. Learning and development is a great tool to attract and retain talent. 
This leads us to introduce one of our clients, Quala, who does an extraordinary job of prioritizing programs that give their employees the opportunity to become the best version of themselves. When they came to BizLibrary looking for a comprehensive learning solution they were impressed by the:  
Ease of use

Ability to request a content piece and have it produced and added to the content library

 

Functionality to customize and add their own content to the platform

 

Quality and quantity of the content found in the library

 

Incredible support from their CSM

 
A Program Built on Second Chances
One of the more inspiring use cases of BizLibrary in an organization comes from Quala. Yyana Fowles, Sr. HR Generalist, and Michael Bass, EHS Director, are strong believers in second chances. A couple of years ago, Bass was speaking to a technician about how life was going for him in general. The employee mentioned he was struggling to understand a credit card offer. Bass discovered that other employees at Quala were facing similar challenges in understanding important life skills, such as credit card interest rates, personal finance, and other crucial areas.
Recognizing the importance of financial literacy, personal development, and the positive impact it could have on people's lives, Bass went to leadership and HR to present his case for building a program that specifically addressed the challenges related to these knowledge gaps.
With a passion to help everyone become their best selves, Bass emphasized the potential benefits for both employees and the company, such as improved personal well-being, increased productivity, and a positive work environment.
Feeling the pull to support their employees in this area, HR and leadership fully bought into this concept. Some of them knew firsthand the struggle of deciphering financial lingo and jumped at the opportunity to show that it is possible to rise above setbacks and continue to learn and grow. They felt strongly about designing a program that assists employees in getting on the right foot to then create a ripple effect for a better functioning society as a whole—not just within their organization.
Teaching Their Employees to Fish
With leadership buy-in secured, the LifeTrax program was no longer a vision but a reality. Capped at 10 participants, the program was instantly popular. Before a class kicks off, employees apply for entrance into the small cohort. Because anyone can apply to the program, many employees find themselves on a waiting list for future cohorts.  
Using feedback from employees and partnering with their CSM for additional intel, Bass and Fowler built a thorough program that covered specific areas. These include:  
Financial training 

 

Personal finance 

 

Retirement planning

 

Mental health 

 

Emotional intelligence 

 

Relationship building  

 

Goal planning
The program spans over 12 weeks. It was important for this program to be based on accountability and action. This encourages learners to be responsible for their growth throughout the three months, rather than just going through the motions. Just like one of our favorite quotes, "If you give a man a fish, you feed him for a day. If you teach a man to fish, you feed him for a lifetime." 
This guiding principle is embedded in the program in several different ways.  
At the start of each week, participants watch assigned BizLibrary content and complete different handouts that align with that week's topic. These handouts can encourage reflection on the videos watched. For example: what are healthy ways to deal with change and how to manage the change, and other times they are activity-based, for example: filling out a budget tracker.
Twice a month everyone comes together in person to discuss the previous week's topics. Typically, they hear from someone in leadership on their experience with a second
chance to
showcase how they have found themselves with a problem and had to start at square one to build back a certain aspect of their life.
Also, during this time
,
participants go around doing a "Mirror Check" where
they're
asked to reflect on any circumstance
s where they might have passed the blame or not
taken
accountability and then explain how
they'll course
correct. Additionally, they share their perspectives from the courses or ask
questions about a concept they may not fully understand.
Lastly, employees are assigned a mentor for the duration of the program. So much of the program is built on creating an environment where participants can be vulnerable and transparent about their life. Establishing trust is imperative for this to happen, so Bass felt it was vital to pair the participants with a trusted person who has invested interest in their growth.
This relationship often extends after the program has wrapped
because the mentees know they can share how
they're
doing, any issues
they're going through, or wins they've recently experienced. The mentor shows up with guidance, consolation, or celebration. W
hatever the employee needs,
they're
always happy to give it.
When the Student Becomes the Teacher
So far Quala has had two graduating cohorts since launch (We are so, so proud of all 20 of them!) and getting ready to kick off their third! LifeTrax graduation is a big deal at their organization, so much so that the CEO and COO attend and deliver a commencement address, so to speak. Furthermore, graduates receive a plaque, hat, and other swag items for them to proudly show off their accomplishments.  
Often graduates remark that the program was way more impactful than they expected. The gratitude for the program is so strong that many express their enthusiasm for helping the next cohort. With the sincerity placed on wanting to give back to the program and remain a part of it, many times they ask if they can become mentors – one of the best metrics of success you can have!!  
Development Doesn't Stop with LifeTrax 
While we are absolutely blown away by the level of attention and effort given to creating, refining, and running the LifeTrax program, our amazement at Quala's commitment to further developing their people continues to rise. 
When an employee first starts their career at Quala, they go through new hire orientation. This program is built out in Quala U (powered by BizLMS) by leveraging the learning initiative feature. Depending on the employee's line of business, they are assigned a specific content track. For example, their technicians go through a 20 to 30-day compliance and safety onboarding experience, so they are proficient in properly using equipment for their safety-sensitive job function.  
Each month, Quala also assigns out "monthly tune-ups" for compliance and DEI refreshers. This allows them to deliver their training in five-minute blocks to allow field employees to have the time to complete the assignment. BizLibrary's microcontent has been perfect as assigned content that hits the mark and is delivered concisely. For their leaders, their training is a bit more extensive, often leveraging an Expert Insight Series, such as Justin Jones Fosu's "Your Why Matters Now." 
Currently in the works is building a formal leadership program and promoting elective learning.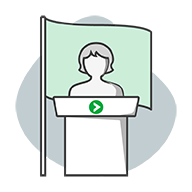 After distributing an employee survey, results showed that leaders wanted more career growth opportunities. Because 90% of the job is dealing with people, the HR department wants to ensure that everyone is solid in managing that aspect of the job. As for elective learning, the team is working on communicating to all employees about how powerful BizLMS and all the content they selected to come with it is. This allows them to take additional development into their own hands.  
Creating Many Ripples
We love nothing more than hearing how our platforms and content can be used for so many kinds of programs that allow employees to develop their full selves. When prioritizing these initiatives in an organization, it not only creates ripples of positive change in the workplace but also in their communities.