Lunch in the breakroom, stopping in the office doorway to have a conversation, or chit chat at the water fountain are all ways people in the workplace build camaraderie. Working remotely takes away the ability to do all of that, but it doesn't mean you can't still have friendships among coworkers. Teams must learn new ways of working together even when they may be far apart.
Pros and Cons of Having Employees Work Remotely
Working remotely has its benefits. Other than avoiding rush hour commutes and getting to stay in your "work from home" clothes (which we all know are your sweats or pajamas), a LinkedIn survey reported some other benefits. Flexible policies let employees choose where they will feel most productive and let companies hire the best talent for the job, regardless of location.
In fact, 72% of companies with remote-work policies say they make workers more productive. Another 22% say remote workers are equally as productive, and only 3% say their workers are less productive at home. Cost savings are also a factor – companies report saving tens of millions of dollars per year in real estate costs by encouraging employees to work from home.
There are also some disadvantages to working remotely. Indeed conducted a study on the top challenges of working from home, which include isolation, decreased work/life balance, and lack of relationships among coworkers. To address the challenge of work/life balance, managers should encourage employees to take breaks offline and avoid working around the clock.
In this article, we'll provide some ideas that can help you address the challenges of isolation and lack of relationships for your remote teams.
For tons of tips and strategies on managing a virtual workforce, check out our "Work… But Virtual" guide series!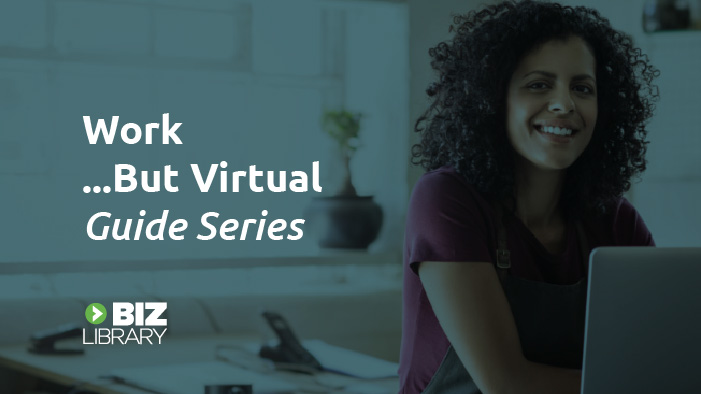 Read on to view our five strategies for building camaraderie among virtual team members.
1. Conversation at the Beginning of Meetings
When you're all in the office sitting around the conference room table, you usually spend a few minutes catching up before the meeting starts. There's no reason not to do the same before starting a virtual meeting!
Museumhack.com suggests that you follow the 2.5x rule: do 2.5x as many virtual team building activities as you do in-person team building. For example, if you usually have five minutes of general conversation at the beginning of office meetings, then your virtual equivalent is 12.5 minutes. This isn't a rule by any means, and will differ depending on the meeting, but it's a good way to build in and expect the social interactions that are missed outside the office.
To encourage interesting conversation, try to search for ice breakers that are outside of the box – not your typical "How was your weekend?" or "How have you been?"
Examples of great ice breaker questions are:
• What's your favorite scent?
• What was the worst haircut you've ever had?
• You're going to sail around the world – what's the name of your boat?
When people explain their answers a little, these get more conversation flowing and are fun ways to help employees get to know one another.
2. Create a Virtual Breakroom
Your team likely has lunch or coffee together in the break area of the office. With everyone scattered, create a virtual meeting room that people can log into whenever they want to take a break with company. This gives employees a place to go for a little virtual, social interaction. By providing a place for informal chatting, you are giving people another way to connect.
3. Create a Group Chat
If your company already utilizes Microsoft Teams or any other chat app, set up a thread unrelated to work, and name it something that signifies it's for random, non-work chatting. This thread can be for anything; pictures of your kids and pets, where you're going for dinner, or what book you're reading.
Non-work chat threads are an effective way to build camaraderie among remote workers because they allow each person to share more of their personality and daily life. An outlet with a loose structure allows the team to stay connected without being interrupted because it can be checked at anyone's convenience.
4. Create Contests
Learn more about each other and discover shared interests with a virtual scavenger hunt.
In this remote team building activity, the team won't look for random objects, but for the team members who correlate with each description. You could play this inter-departmentally or with smaller teams.
Your team could search for:
• The coworker who has visited the most countries
• The coworker with the most siblings
• The coworker who most recently got engaged / adopted a pet / had a baby, etc.
You can make the clues generic or you can make them fit only one or two team members for added challenge.
This is a fun way to get more team members interacting with one another and learning more about each other. View BizLibrary's scavenger hunt template for lots of ideas on what to search for!
Another option is hosting a spirit week. Even though you're not physically together, you can join in spirit. Get everyone involved by taking polls before the week so employees can have a say in what the theme is for each day. Take pictures to post on Twitter or LinkedIn with hashtags. Days of the week can have outfit themes as well as a coordinating challenge to do at home.
Examples include:
Get active day: wear athletic wear and go for a walk
Throwback Thursday: post a picture of yourself from elementary school and see if you can guess who is who
Company pride day: wear company swag and have a virtual lunch or coffee chat
A great way to incentivize everyone is to create a competition between departments as to who wore it best.
5. Create an Environment of Trust
It can be harder to build trust among colleagues when teams are separated. For any of the above ideas to enhance team camaraderie, you have to cultivate a trusting work environment. Trust isn't just about good feelings or liking the people we work with. Building a culture of trust makes a meaningful difference in both employee engagement and company outcomes by increasing productivity and profitability.

The first way to build trust among remote teams is by encouraging managers to engage in the same way they'd like to see their team members engaging with each other.
For example, be the first to share your thoughts on the ice breaker at the beginning of a meeting, ensure you're participating in spirit week as well, and be present on the group chat.

Transparency builds trust. Companies, especially those that are remote, value transparency because it improves credibility and lowers the chances of miscommunication. Two ways to provide greater transparency are keeping employees informed, and acting on feedback.
Keeping Employees Informed
Surprises weaken trust. Not keeping people informed of new employees starting, or making sudden changes frequently aren't good ways to maintain trust. Whenever you can, ensure everyone is aware of what is going on, good or bad. If things go wrong, they will then trust that they will know about it with plenty of time to understand and react.
Acting on Feedback
Collecting feedback from employee opinion surveys and other anonymous forms is useful in learning about employee engagement. However, the value isn't the collection of it. The value is the action that is used following the collection. If employees are communicating issues, then discussing and acting on them is another way to build trust and improve engagement with your workforce.
Virtual team building can be very different than in-person team building. Learn more about how to promote engagement and culture with a remote workforce in our new guide: