Gilligan Launches New Leadership Program to Increase Employee Retention and Internal Promotions
Company Size
1,400
Industry
Management of Companies and Enterprises
Use Cases
Leadership Development, New Manager Training
Who Is Gilligan Oil Company?

Founded in 1993 and headquartered in Chicago, Illinois, Gilligan Oil Co. is a distributor and seller of gasoline. The Company also operates convenience stores, Subway and Popeye's franchises, and Gills car washes.

Primary Challenge

Increase employee retention and grow the leaders in their dispersed workforce.

Results

100% participation in monthly program assignments.
Let's Talk Turnover…
Turnover continues to impact organizations across the board, but in the restaurant industry, rates are more than double the national average. With this known challenge organizations can sometimes scramble to find talent to fill their open roles and keep operations going.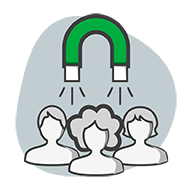 But, when organizations invest in the development of their people, they create a learning culture that ultimately leads to more internal promotions and higher levels of retention.
Gilligan Company is a standout example of what it looks like when an organization takes the time to develop its leaders and see positive results.  
But, How Did They Do It?
Gilligan was looking to better support their general managers and with over 100 of them spanned across multiple states they needed to find a solution that would allow everyone to access the same training no matter where they were located. Additionally, they knew that each manager brought different skill sets to their role, so they needed something to level the playing field.
Enter BizLibrary. After doing thorough research into different offerings BizLibrary stood out as their first choice because of our capability to offer a consistent framework with short and very engaging content on a variety of soft and management skills.
Furthermore, they felt that the customer service they received stood out among the rest in addition to being provided plenty of resources to get started, and the ability to work within their budget was highly appreciated.
Gilligan's vision for their program would provide their managers with the feeling that they "…care about them. Not just professionally, but personally as well. [BizLibrary's] platform caters to both of those topics of growth."  
When Clare, Director of People and Culture, first sat down with Kelly on our Implementation Services team she outlined her hopes for the program. From there BizLibrary was able to build a program that matched exactly what Gilligan was hoping for by meeting weekly with Clare to get everything established.
Part of this planning period included sending a list of desired skills Gilligan was looking to train their teams on to our content concierge team. From there, our content experts compiled a list of video lessons that were mapped to the skills that were chosen, which then allowed Clare to plan her launch.  
3…2…1… LAUNCH
In order to drive maximum participation Clare knew that she needed to make the launch as engaging as possible. She first drew inspiration from a previous client launch video to put together something that explained the program and showcased the BizLibrary platform before the first assignment went out.
Packaged with the introductory video she included a sneak peek of the content lesson learners could expect and an explanation of the intrinsic and extrinsic motivators to get everyone excited.
She explained that Gilligan was investing in their managers which to get buy-in from those learners.
In addition, Gilligan offered an incentive – a chance for five participants who completed 100% of the first assignment on time to win a PTO day. 
So what was the assignment that kicked off the launch you may be wondering? To get learners comfortable with using BizLMS, Clare created a scavenger hunt. Learners needed to complete three tasks:  
Fill out a survey asking them about the skills they would like to receive training on, 

 

Discover where the featured playlists lived and dive into a few of them, and 

 

Go through the browsable library to find content for their personal growth. 

 
Because she planned and emphasized the importance of the training and development program ahead of time and made the first assignment purposeful and fun, she saw 100% participation!
That is certainly a huge win!  
So What Are They Up to Post-Launch?
Since the initial scavenger hunt, they rolled out their formal manager training program. For the past few months, topics covered included:  
Interviewing

 

Time management

 

Prioritization

 

Health and wellness

 
Because of the dispersed nature of their industry, their program is conducted in a hybrid setting.
Each month Clare meets with the District Managers for a train-the-trainer session to give an overview of the skill.
From there the District Managers roll out the skill to their General Managers and then assign the featured playlist and any mandatory assignments that may accompany it. Once a quarter, all of the managers get together for a larger meeting where they break out into groups to work on an activity that gives them hands-on practice of the skill of the month.
By using a hybrid model of trainer-led and online content Gilligan sees better knowledge retention and can easily track their learners' progress through BizLMS.  
Gilligan continues to report that most of their managers complete their assignments in full on time.
Upon restaurant location visits they often hear feedback that goes something like "When is our next BizLibrary topic of the month coming out?" or "We can't wait for our next skill of the month!"
Gilligan's General Managers are also asking for help more often, identifying areas they may need additional support to be successful in their role. The benefits experienced so far are a testament to the hard work Clare put in to make the program successful and what organizations can expect to see when they prioritize establishing a culture of continuous learning. And while the benefits are plentiful, Clare began brainstorming ways to expand the program by rolling it out to their shift managers to give them an opportunity for internal promotion.
By filling their hi-potential pipeline of leaders, they show a commitment to their people's growth but also create an environment where their managers want to stay and influence their team members to grow to the next level.  
Helping build a hi-potential pipeline and leadership programs that prove successful is something BizLibrary knows a thing or two about.