US Eagle Increases Internal Promotions Through Upskilling and Reskilling
Company Size
300+
Industry
Finance and Insurance - Banking
Use Case
Annual Compliance, Communications, Sales & Customer Service, Leadership Development, New Manager Training
Who Is US Eagle?

Founded in 1935, U.S. Eagle Federal Credit Union offers a full suite of financial products and services and has nine locations in Albuquerque, Bernalillo, Farmington, and Santa Fe. With assets of more than one billion and more than 80,000 members, U.S. Eagle is New Mexico's oldest credit union.

Primary Challenge

Retain their employees and promote from within.

Results

An increase in internal promotions and overall net promoter score due to improved customer service interactions.
Let's Get This Upskilling and Reskilling Party Started! 
We all know the cycle. You interview for the job, you nail it and get the offer, you start, and it's great…until you're left wanting more. More development. More opportunities. Just more. Organizations face this challenge ALL. THE. TIME. And with Gen Z employees entering the workplace who have a mentality that is along the lines of, "Well if I can't get what I am searching for here, I'll just go somewhere else," providing opportunities that give employees "more" has never been more important.
By addressing turnover, organizations can avoid:  
Spending money, time, and human resources to onboard a new employee

 

Employee burn out because they must take on additional roles and responsibilities outside of their role 

 

Losing hi-potential talent
But we can assure you with a successful upskilling and reskilling program, your employees will see a clear growth plan and understand the expectations to get there. US Eagle identified this employee retention challenge through feedback from their employees letting them know they wanted a development program that was different than what was already available.
Their employees were getting tired of the long, complicated, credit union and compliance training. While the training was vital to gaining insight into the organization and performing their job up to standards, the training and development team recognized that the employees needed a boost in their skills.
So, the search for something faster, lighter, educational, and engaging began.
During their search process, they came across BizLibrary's product, BizSkills, the first and only upskilling platform that provides your workforce with personalized training and career growth for each unique employee. They knew the solution would be the perfect fit for them to build out a stand-out skills development program for their people.  
To truly get a party started you need to organize some VIDs (very important details!) like guest list, invitations, activities, etc. Similarly, when standing up a brand new program in your organization, there are some items that you need to get squared away before launching.
Fortunately, BizLibrary's Implementation Services team is well-versed in making sure all necessary details are in place before "opening the doors" of a program, so-to-speak. In US Eagle's case, they needed a very individualized approach because their organization has 211 unique job titles among their 300+ employees. The Client Experience Manager met weekly with Todd Banik, L&D Specialist at US Eagle, to customize BizSkills' already curated off-the-shelf job titles and descriptions as well as import all the users for their initial rollout to their 75 managers, which made for an easy and flawless setup.
From there, to ensure the content topics mapped to the manager's job roles were applicable, Banik sent out a needs assessment survey to the managers asking which skills they felt they needed to improve on and partnered with BizLibrary to map courses tied to the top 20 skills. After the skills and content were fully ready, it was time to launch to their managers (including the CEO – yes, you read that right). 
A Party with Prizes and Participation… Count Us In
So now that the setup and mapping were completed, it was time for guests to begin arriving at the highly-anticipated BizSkills launch party. Banik knew the importance of starting off strong, so to kick everything off, everyone met to get an introduction to the program, the "why" behind it, and an in-depth demo of how to use the platform, including the robust search functionality.  This initial buy-in step was a major driving factor in the program's launch.  
Additionally, to keep the momentum of logging in and completing their assignments moving, each week during the two months they had to complete their assignments, Banik created contests, such as a BINGO game that included prizes. Furthermore, the managers would come together to talk about what they were gravitating towards during the program, and the L&D team would share which department had the most completions, to keep the competitive nature of the program.  
With the success of the launch of BizSkills to US Eagle's managers, it came time to evaluate any updates to their initial BizSkills setup to then roll out to their individual contributors. The learning and development team performed an audit of their job roles, which content courses were recommended for those specific roles, and adjusted to fine-tune the BizSkills experience.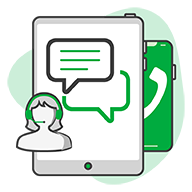 Before officially launching, they also had the managers who engaged with the program write testimonials about how much they gained from it and share those stories to get the new learners excited. Once launched, they saw immediate engagement and participation in the game driving utilization of the program overall.  
Their Upskilling and Reskilling Program Really Is All the Rage
Launching BizSkills became the start of creating a culture of continuous learning at US Eagle. When new hires begin, they are assigned their BizSkills role and content mapped to the specific skill proficiencies needed to excel to get them comfortable in the platform on day one.
Beyond following the learning paths within BizSkills, employees also began consuming additional elective learning to fuel their passion for professional development. Banik also sends out monthly marketing messages that highlight new content available from BizLibrary as well as a skill of the month with recommended courses if employees are interested. 
While finding new ways to incorporate learning into US Eagle's culture is their main priority, ensuring metrics of success are being met comes in at a close second. Tracking career mobility has always been something US Eagle has reviewed. Most of the time, new hires start in an entry-level position as a bank teller or customer service representative, with hopes of progressing in the company as soon as six months after being hired.
Employees are encouraged to share their ambition for where they see themselves growing, and from there, with the help of BizSkills, they can learn the skills they need to take on the new role.
Because of the encouragement to learn about new departments, watching internal promotions has been at the forefront of measuring success. The training and development team can easily see which employees have prioritized their own career development and can report on those going above and beyond. Also, with the help of BizSkills' skills interest feature, admins easily track what their employees are learning and can help guide development conversations when discussing future roles.
On a larger business scale, since having their customer support team go through their BizSkills assignments, US Eagle's net promoter score (NPS) has increased because members report having more positive interactions with employees. The learning and development team attributes this to the training on providing consistent and positive experiences.  
Since implementing BizSkills in their organization, US Eagle experiences better business outcomes and improved employee retention.