The BizSkills platform allows you to easily customize and automate your skills development program based on the most important training needs in your organization, personalized and targeted by job role.
The epic end result?
More engagement. Higher performance. Less turnover.
Get a Product Tour
Help Your Employees Level Up
Take the guesswork (and gruntwork!) out of curriculum development, and expertly scale personalized learning experiences throughout your organization!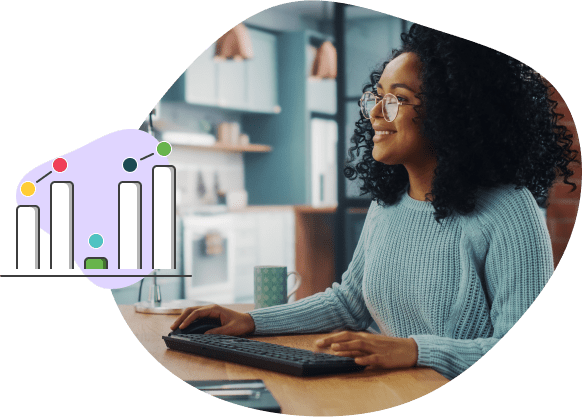 Job Role Library
Choose from more than 500 off-the-shelf job roles, or customize the library with your own job roles.
Skills Library
Watch as those job roles get mapped to a library of 1,500+ key skills.
Content Library
See those skills map to 5,000+ lessons of award-winning, job-relevant learning content
What our clients are saying about BizSkills
"I was planning on doing all of this myself and now I don't need to."
"This is like a cheat code for my job."
"Oh my gosh, this is fabulous!"
BizSkills FAQs
What can I do with BizSkills?
You can choose from 500+ off-the-shelf job roles (or add your own custom jobs), mapped to a library of 1500+ key skills, and see those skills linked to BizLibrary's award-winning content library, creating an extremely personalized, job-focused development plan for each employee.
How does BizSkills work?
BizLibrary has partnered with the industry-leading, labor market data experts at Emsi Burning Glass to map our library of learning content to their database of skills required for job roles. Emsi gathers and integrates economic, labor market, demographic, education, profile, and job posting data from dozens of government and private-sector sources, creating a comprehensive and current dataset that includes both published data and detailed estimates with full North American coverage.
Is BizSkills a standalone solution?
BizSkills can be a standalone platform, or it can be fully integrated with our Learning Management System, BizLMS, or used with another LMS. Since our award-winning content library is pre-mapped to the skills library, using BizSkills requires a BizLibrary Unlimited content subscription.
Can I create and customize my own skills?
Yes! Choose from more than 1500 off-the-shelf skills to customize, or you can create your own skills from scratch. We have many clients who have unique skills that are very specific and relevant to their learners, and BizSkills makes it easy to set-up a new skill and quickly map content to that skill.
My company has a lot of unique positions. What if I can't find a job role?
BizSkills allows your organization to create its own job roles! If you're not sure where to start, you can also customize a job role from our off-the-shelf job library. You'll be able to edit the job title, description, responsibilities, skills, and content associated with each skill to fit your organization's exact needs.
Is there a feature that allows both the learner and their manager to rate proficiency in a given skill?
Yes. Ratings allow managers and learners to rate a learner's ability in each assigned skill, helping determine how much content to take to reach the skill proficiency needed for their job role.
As an administrator, will BizSkills allow me to create a development plan for my learners?
Yes. Development plans can provide a more structured learning path personalized to each learner, offering stages of development based on their current skill proficiency and what's needed to move into other job roles in the organization.
Schedule a customized walk-through of BizSkills today!