In honor of Pride Month and Juneteenth, BizLibrary has compiled a list of resources to help workforces create inclusive cultures that foster diversity and make everyone feel like they can bring their whole self to work.
Pride Month is celebrated during June to commemorate the 1969 Stonewall Rebellion, a series of uprisings that began at the Stonewall Inn in New York City. Some historians consider this a transformation of the existing Gay Rights Movement – activists all over the country commemorated the Stonewall Rebellion with parades that they originally called "Christopher Street Liberation Day Parades." Learn more about the origins of Pride Month and the Stonewall Uprising at the Library of Congress.
A recent GLAAD survey reported that 70% of American respondents who didn't identify as LGTBQ+ themselves said that (LGTBQ+) support from companies should come through hiring practices, advertising and sponsorships. The majority of respondents want to see corporations hiring and supporting LGTBQ+ employees as equal. The BizLibrary Collection has several lessons on supporting LGBTQ+ employees from both a coworker standpoint and as a manager. One of our most recent releases on creating a welcome environment for LGBTQ+ employees is Being an Inclusive Manager for your LGBTQ+ Employees.
This lesson covers what the LGBTQIA+ acronym stands for, describes what LGBTQIA+ inclusion looks like in the workplace, and the benefits of an inclusive work environment. Then, viewers will walk through some ways to foster inclusivity, such as establishing an open and diverse safe space and normalizing gender pronouns.
Other lessons and resources on supporting members of the LGBTQ+ community include:
LGBT+ Equality in the Workplace
Gender Identity: What Does LGBTQIA+ Mean?
The HR Guide to LGBTQIA+ Equality in the Workplace
Take PRIDE in Diversity – Activity Guidebook
BizLibrary is also proud to announce that we have recently released a lesson on Juneteenth – the federal holiday that commemorates the freedom of enslaved peoples in Texas after the Civil War. Although Juneteenth was declared a federal holiday in 2021, a Gallup study from the same year found that nearly 60% of Americans as a whole reported knowing only a little bit or nothing at all about the celebration.
Celebrating Juneteenth: A Step Towards Inclusion teaches about the meaning of June 19th, 1865, and the importance of Juneteenth as a national holiday. It also guides learners through the events that led up to the symbolic freedom of slaves in America. This timeline reaches back in time to the Emancipation Proclamation and places major events that led to the holiday in chronological order. Viewers will even be taught about the Juneteenth flag and the symbolism behind each part of it. By the end, learners can expect to walk away with a better understanding of why the holiday deserves to be celebrated and how they can do their part to honor it.
Other lessons and resources on supporting diversity and equity in the workplace include:
Expert Insights: Inclusive Mindset with Justin Jones-Fosu
Anti-Racism: Because 'Not Racist' Is Not Enough
Overcoming Unconscious Bias
And keep an eye out for an upcoming Expert Insights series – Freedom from Racism with Marshall Fields!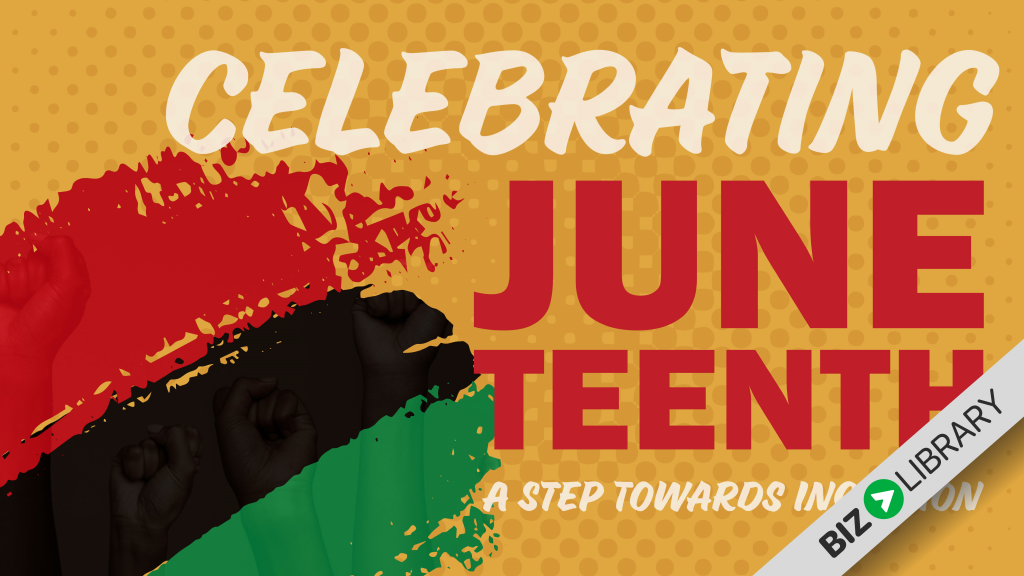 Inclusivity should be intersectional – there are many different types of people in this world, and it is BizLibrary's goal to create a better workplace for all of them. The BizLibrary Collection has many resources on supporting historically underrepresented groups in the workplace – including Neurodiversity at Work and Empathy ADA: Promoting Understanding and Accessibility.
BizLibrary also offers a DEI playbook – a 101 Guide for Creating a Culture of Belonging and Allyship. We hope that these resources are helpful to you and are used to create inclusive cultures at your organization – and if you need any more help, don't hesitate to reach out to a BizLibrary representative today!