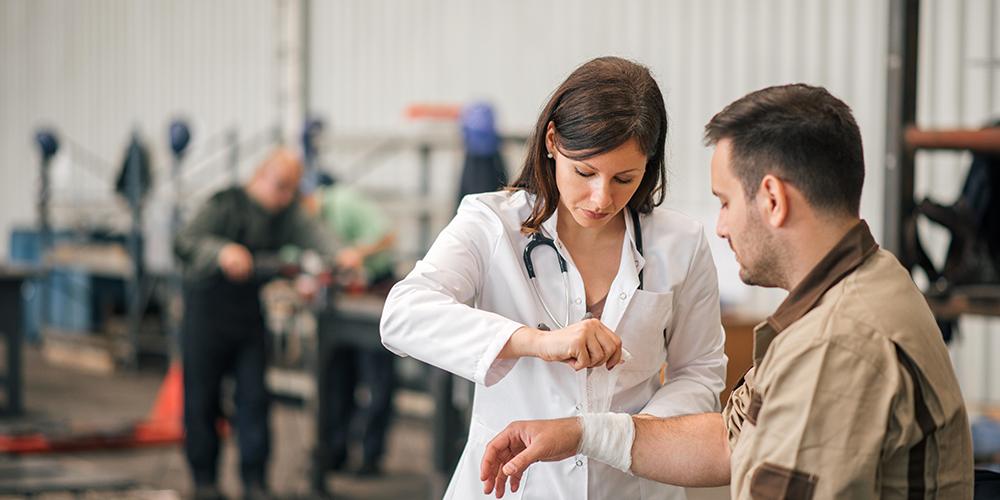 These are certainly strange times we're living in – with several US based organizations going remote in the face of the coronavirus pandemic, new challenges (and opportunities) require creative solutions, and more than anything, a plan.
Unfortunately, many organizations have had to act reactively, and not proactively. This has led to issues with leadership communication, and many managers are struggling to figure out effective strategies to manage a remote and virtual workforce.
To help organizations and employees cope with the current changes we're all going through, we've created a playlist of free training videos – access them here:
The coronavirus outbreak has demonstrated the need for emergency preparedness, and organizations who have a response plan are managing the transition more efficiently, maintaining operations, and keeping employees and clients alike satisfied and informed.
If this outbreak has shown you the need for a crisis management plan in your organization, read on! We have all the tips you need to mitigate the challenges that come with a pandemic and other emergencies!
Stay Informed by Following Trusted Sources
During the coronavirus outbreak, misinformation seems to be spreading faster than the virus itself! This misinformation can cause people to engage in irrational behavior – for instance, buying several months' worth of toilet paper!
In addition to causing people to take unnecessary actions, misinformation can also cause people to ignore necessary actions. For the benefit of your organization, it's important to know the facts, and gather information only from trusted sources.
A few sources of information include the Centers for Disease Control, your state and municipality health departments, and from science-oriented sources like Science-Based Medicine – here's a great article from them about knowing the myths and facts about COVID-19!
Not every emergency will be a public health emergency, so the trusted sources will change. Whether it's a financial, technological, or natural crisis, knowing where (and where not) to turn for important information will help you make informed decisions and mitigate risk.
Develop a Communication Strategy
Effective communication cannot be ignored during a crisis – in fact, meaningful and strategic communication is your best tool to mitigate risk and develop an effective crisis response plan.
We recommend following the guidelines outlined in our free ebook, "Crisis Management: Communication Strategies for Navigating Times of Change and Uncertainty."
In this ebook, we outline strategies to classify and identify your crisis – follow this chart: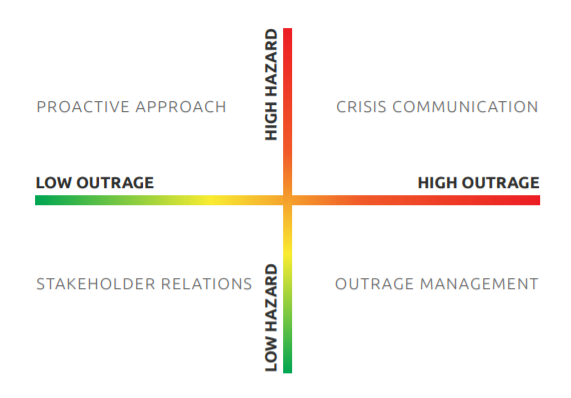 Based on what your crisis is, you should adjust your messaging and strategy accordingly. Outrage in this context refers to how your employees are responding to a crisis event. The higher their level of concern, the higher their outrage.
When outrage is high, employees will have larger expectations for how your organization handles crises and communicates during them.
However, outrage doesn't always match hazard levels. Consider this coronavirus outbreak, and then consider Y2K.
During Y2K, many civilians were worried – there were real concerns that planes would fall from the sky!
Panic was fairly high, but the danger, or the hazard, presented was low. Compare that to the spread of COVID-19, which presents a fairly high hazard to at-risk people – in this scenario, hazard is much higher.
That's why staying informed with accurate, reliable information is so important – your organization must understand the hazard levels of a given crisis, and then communicate that hazard.
Always understand the hazard when you make a communication plan – you'll need to help employees understand the hazard as well, so they understand why you've made any given decision.
Be prepared to answer questions. The more information you have, the better prepared you'll be!
Focus on Productivity, and Employee and Client Retention
There will be challenges during any crisis, especially ones with transformative ramifications, like the COVID-19 outbreak.
In light of this, don't aim for perfect crisis management, rather, focus on productivity, and employee and client retention.
To do this, empower both employees and managers to remain productive during transition phases. For instance, in the face of the coronavirus outbreak, many organizations are encouraging employees to work virtually.
For organizations just getting started with virtual work, this presents new challenges.
If you can, this is a great opportunity to leverage your training program for success in this transition. BizLibrary clients have access to hundreds of courses on virtual work, for employees and managers.
Whether you use off-the-shelf content, or build your own training, you need to strategically support managers for remote work through training. And if you haven't already, now is as good a time as ever to migrate some of your training online.
By migrating training online, you can avoid large gatherings in classroom settings, helping your organization slow the spread of COVID-19, while still delivering vital information and learning to your employees.
Much of your training should be in an effort to maintain productivity, by teaching employees and managers alike new strategies to get the most out of remote and virtual work.
In addition to productivity, retaining both your employees and customers should be a top priority. As a result, both audiences should be targets of your strategic communication efforts, though the messages that these audiences receive should be tweaked to their communication needs.
If you can bear a crisis and not lose too much productivity, or customers, or employees, you've probably done a great job handling the crisis!
Make a Plan, but Know That Plans Change
As you approach change and uncertainty, understand that the very nature of uncertainty means that no plan could possibly account for everything – understanding your goals, your KPIs, and your time frame are crucial elements of a good crisis response, but having organizational agility – the ability to make changes fast without losing productivity – is an invaluable tool in crisis management.
With the coronavirus, the organizations that were able to adapt quickly to remote work were the organizations best prepared to handle the workplace transformations. This agility helped these organizations mitigate risk, and will continue to mitigate that risk throughout the social distancing period of COVID-19.
Crises are dangerous in large part due to their uncertainty –that means you should be planning for uncertainty through agility.
The truth is that this uncertainty and change caused by coronavirus is tough on almost everyone – just ask stock traders.
Having a plan, communicating strategically, and mitigating risk by focusing on productivity, and client and employee retention will go a long way in getting you through this – and future – crises.