Remote Leadershift
Presented by: Laura Goodrich
Wednesday, December 02, 2020
1:00 pm CT
What are people saying about BizLibrary webinars?
"This webinar fit perfectly with current topics being reviewed and trained in our company."
- Jennifer L
"The presenter was great. I wish every webinar I attended was this interesting. The presenter made it very exciting."
- Heather E
These are extreme times. Your remote teams are isolated, anxious, and forced to work in different ways. For leaders, it's about more than managing a remote team through crisis. It's empowering the right leaders to transform the underlying assumptions of the workforce to lead the way forward. This is a time of opportunity that requires what we call, Remote Leadershift.
In this webinar, celebrated thought-leader, Laura Goodrich will help leaders and teams alike navigate amidst the new environment. You'll leave having the right tools needed to rebuild the camaraderie around the "lunch table" while developing a new and innovative thinking process for your team.
Key takeaways from this webinar:
Learn how to coach your team to help them solve challenges
Learn how to challenge knee-jerk reactions and legacy thinking
Learn about the Drivers of Innovation
Explore the inside influences at your work
Learn about the three Rs and how you find new solutions to old problems
Learn how to pull it all together and use a thinking process for innovation with your team
PRESENTERS
Laura Goodrich
Founder of GWTNext and Expert in Transformation and the Future of Work
GWT Next
Laura Goodrich is an expert on the future of work and technology. She has over 20 years of experience as an executive coach and is recognized by Thinkers 360 as one of the top 20 thought leaders in transformation, future of work, change, culture, and technology. Her global perspectives on workforce dynamics and change have earned her the reputation as someone who can create positive outcomes in even the most challenging workplace dynamics. Goodrich is the founder of GWTNext, which provides a unique process to transform the underlying assumptions of the workforce by creating conviction and driving innovation within the organization. This process prepares you for the future of work and is deployed to top leaders and then extends to the employees. Laura acts as your guide and provides tools in the coaching process to enable leaders to become innovative and confident in their work lives.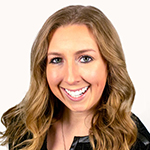 Katie Miller
Webinar Host
BizLibrary
As the Marketing Events Strategist, Katie spends her days researching and writing webinar content, presenting and moderating webinars for the HR and L&D industry, as well as hosting events with other presenters and partners. She is also responsible for the coordination and management of client-facing events, including BizLibrary's annual client conference.
FAQ
Q. What platform do you use for your webinars?
A. We use ON24 as our webinar platform.
Q. Do I need to download anything to attend?
A. No, ON24's interface does not require a download. You'll just need to make sure you have Adobe Flash enabled and for best results, close down any extra browser windows.
Q. How do I listen in to the webinars?
A. To listen in, you will need a pair of headphones or computer speakers. We do not provide a dial-in number for attendees.
Q. How early can I join the webinar?
A. The webinar room will open 15 minutes before the webinar starts.
Q. Do you recommend a certain browser to watch the webinar?
A. After 3/21/20, ON24 will not support Internet Explorer. We recommend using a supported browser, such as Microsoft Edge, Google Chrome, or Mozilla Firefox to view the webinar.
Q. Do you offer credits for your webinars?
A. Yes, most of our webinars are approved for one hour of HRCI and SHRM general credit. In order to be approved for credits, you must attend at least 50 minutes of the webinar.
Q. How do I know if the webinar is approved for credits?
A. If a webinar is approved for SHRM or HRCI general credits, the registration page will have the SHRM and HRCI badges at the bottom of the page. If you have any questions regarding credits, email kmiller@bizlibrary.com.
Q. How will I receive my HRCI and SHRM certificate?
A. If you have attended for 50 minutes of an approved webinar, there are a few ways you can obtain your certificate. First, you can download the certificate from a widget in our platform. If you forget to download the certificate during the webinar, an email will be sent with the certificate about 2 hours after the webinar is complete.
Q. If I'm not able to watch the webinar at the live time, can I watch it later?
A. Yes! We understand that you might not be able to watch the webinar at the live time, so we offer our webinars on demand. On-demand webinars are available up until 12 months after the initial live webinar date.
Q. What if I am having trouble accessing the webinar?
A. The webinar room will open 15 minutes before the live time. If you are still having issues attending, email kmiller@bizlibrary.com.

BizLibrary is a credit provider for HR Certification Institute (HRCI) and for the Society for Human Resource Management (SHRM). Viewing this webcast in its entirety qualifies for a recertification credit hour (general credit) for SHRM and HRCI. For more information visit our accredited content page.