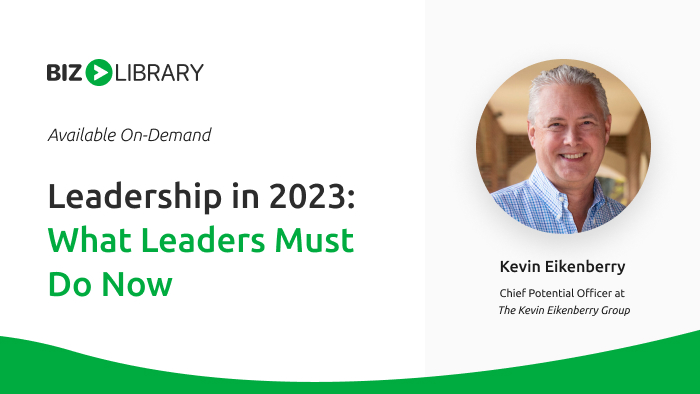 Leadership in 2023: What Leaders Must Do Now
Thursday, March 9, 2023, 1:00 pm CT
The world, and the world of work is changing – faster than ever. There are new external forces, new expectations from customers and employees, and leaders are left trying to figure all of that out, while leading day to day.
The fact is, leading, while always complex, is perhaps more complicated than ever. This is the state of leadership in 2023. It leaves us with questions for the organizations and individual leaders. What is changing, and how must we lead differently?
And while there are a lot of unknowns, there is one thing we know for sure:
Leadership skills will be more important than ever.
Join us for an interactive, thought provoking, and practical session where Kevin Eikenberry highlights the key needs for leaders in this new world – and how organizations can help them get there. This will be a timely, practical and inspirational look into the future of the leader's role – and how you can prepare for it.
At the end of this fast-paced and interactive webinar you will be able to:
Describe how the world of work is different today – and why those differences matter
Outline why the developing leadership skills is a critical success factor today
Describe the leadership competencies that are critical for success in 2023
Recognize ways to build those competencies for yourself and other leaders in your organization
The future of work contains big opportunities and the choices and preparation you take now will long-lasting impacts. Join us for a powerful webinar to help you successfully navigate in 2023 and beyond.
Brought to you by your presenters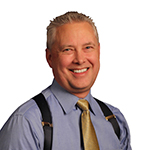 Kevin Eikenberry
Founder and Chief Potential Officer
Kevin Eikenberry Group
Kevin Eikenberry is a recognized world expert on leadership development and is the Chief Potential Officer of The Kevin Eikenberry Group. He has spent more than 25 years helping organizations and leaders from around the world, on leadership, teams and teamwork, communication, and more. He has twice been named by Inc.com as one of the top 100 Leadership Speakers and Leadership/Management Experts in the World and has been included in many other exclusive lists. He is the author, co-author or a contributing author to nearly 20 books, including Remarkable Leadership, From Bud to Boss (with Guy Harris) and The Long-Distance Leader: Rules for Remarkable Remote Leadership (with Wayne Turmel). He publishes one of the most widely read blogs on leadership (http://blog.KevinEikenberry.com), The Remarkable Leadership Podcast (http://RemarkablePodcast.com) and a weekly video series, Remarkable TV (http://KevinEikenberry.com/RemarkableTV)
FAQ
Q. What platform do you use for your webinars?
A. We use ON24 as our webinar platform.
Q. Do I need to download anything to attend?
A. No, ON24's interface does not require a download. You'll just need to make sure you have Adobe Flash enabled and for best results, close down any extra browser windows.
Q. How do I listen in to the webinars?
A. To listen in, you will need a pair of headphones or computer speakers. We do not provide a dial-in number for attendees.
Q. How early can I join the webinar?
A. The webinar room will open 15 minutes before the webinar starts.
Q. Do you recommend a certain browser to watch the webinar?
A. After 3/21/20, ON24 will not support Internet Explorer. We recommend using a supported browser, such as Microsoft Edge, Google Chrome, or Mozilla Firefox to view the webinar.
Q. Do you offer credits for your webinars?
A. Yes, most of our webinars are approved for one hour of HRCI and SHRM general credit. In order to be approved for credits, you must attend at least 50 minutes of the webinar.
Q. How do I know if the webinar is approved for credits?
A. If a webinar is approved for SHRM or HRCI general credits, the registration page will have the SHRM and HRCI badges at the bottom of the page. If you have any questions regarding credits, email kmiller@bizlibrary.com.
Q. How will I receive my HRCI and SHRM certificate?
A. If you have attended for 50 minutes of an approved webinar, there are a few ways you can obtain your certificate. First, you can download the certificate from a widget in our platform. If you forget to download the certificate during the webinar, an email will be sent with the certificate about 2 hours after the webinar is complete.
Q. If I'm not able to watch the webinar at the live time, can I watch it later?
A. Yes! We understand that you might not be able to watch the webinar at the live time, so we offer our webinars on demand. On-demand webinars are available up until 12 months after the initial live webinar date.
Q. What if I am having trouble accessing the webinar?
A. The webinar room will open 15 minutes before the live time. If you are still having issues attending, email kmiller@bizlibrary.com.