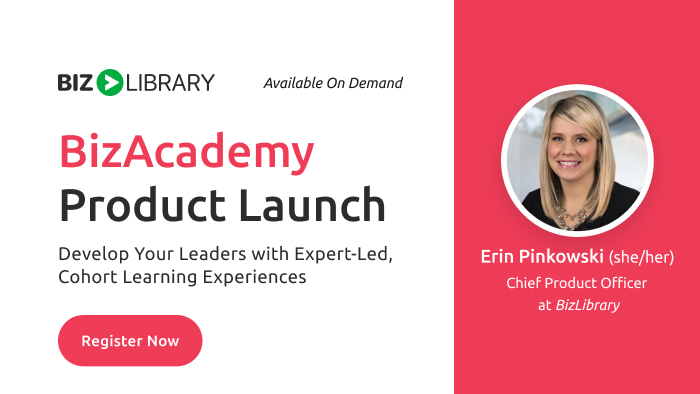 BizAcademy Product Launch - Develop Your Leaders with Expert-Led, Cohort Learning Experiences
Tuesday, January 17, 2023, 9:00 am CT
Effective leaders are key to your organization's success, but unfortunately most leaders don't get the training they need to perform at their best. With record turnover rates, quiet quitting, and productivity paranoia looming large, organizations need a new approach to leadership development. That's why we created
BizAcademy – our premier leadership development content product designed to give your leaders the skills they need to excel within your company.
BizAcademy turns your learners into leaders with expert-led, cohort-based virtual learning experiences with veterans of the industry, including former and current executive leadership members. With a mix of live sessions led by industry experts, on-demand content, and real-time coaching, your leaders will get the expertise they need to inspire their teams and drive a culture of growth and development at your organization.
Join Erin Pinkowski, Chief Product Officer, to discover how BizAcademy can take your leaders to the next level. Take this opportunity to get the first look at BizAcademy session offerings, as well as:
Learn why our top trend for 2023 is leadership development and retention, what's driving this priority, and implications for your organization's bottom line.
Get an inside look at BizAcademy's leadership development tracks and see how they can help you retain and develop your most impactful leaders.
Experience the difference of hybrid training and learn the benefits of combining live training with asynchronous learning opportunities for maximum knowledge retention and long-term results.
Brought to you by your presenters
Erin Pinkowski
Chief Product Officer
BizLibrary
Erin Pinkowski is the Chief Product Officer at BizLibrary. She joined the company in 2013 as a marketing specialist and now oversees the teams responsible for enhancing our content and platform products and increasing awareness of those products within the market. Prior to joining BizLibrary, she worked as an event manager in the hospitality industry.
FAQ
Q. What platform do you use for your webinars?
A. We use ON24 as our webinar platform.
Q. Do I need to download anything to attend?
A. No, ON24's interface does not require a download. You'll just need to make sure you have Adobe Flash enabled and for best results, close down any extra browser windows.
Q. How do I listen in to the webinars?
A. To listen in, you will need a pair of headphones or computer speakers. We do not provide a dial-in number for attendees.
Q. How early can I join the webinar?
A. The webinar room will open 15 minutes before the webinar starts.
Q. Do you recommend a certain browser to watch the webinar?
A. After 3/21/20, ON24 will not support Internet Explorer. We recommend using a supported browser, such as Microsoft Edge, Google Chrome, or Mozilla Firefox to view the webinar.
Q. Do you offer credits for your webinars?
A. Yes, most of our webinars are approved for one hour of HRCI and SHRM general credit. In order to be approved for credits, you must attend at least 50 minutes of the webinar.
Q. How do I know if the webinar is approved for credits?
A. If a webinar is approved for SHRM or HRCI general credits, the registration page will have the SHRM and HRCI badges at the bottom of the page. If you have any questions regarding credits, email kmiller@bizlibrary.com.
Q. How will I receive my HRCI and SHRM certificate?
A. If you have attended for 50 minutes of an approved webinar, there are a few ways you can obtain your certificate. First, you can download the certificate from a widget in our platform. If you forget to download the certificate during the webinar, an email will be sent with the certificate about 2 hours after the webinar is complete.
Q. If I'm not able to watch the webinar at the live time, can I watch it later?
A. Yes! We understand that you might not be able to watch the webinar at the live time, so we offer our webinars on demand. On-demand webinars are available up until 12 months after the initial live webinar date.
Q. What if I am having trouble accessing the webinar?
A. The webinar room will open 15 minutes before the live time. If you are still having issues attending, email kmiller@bizlibrary.com.