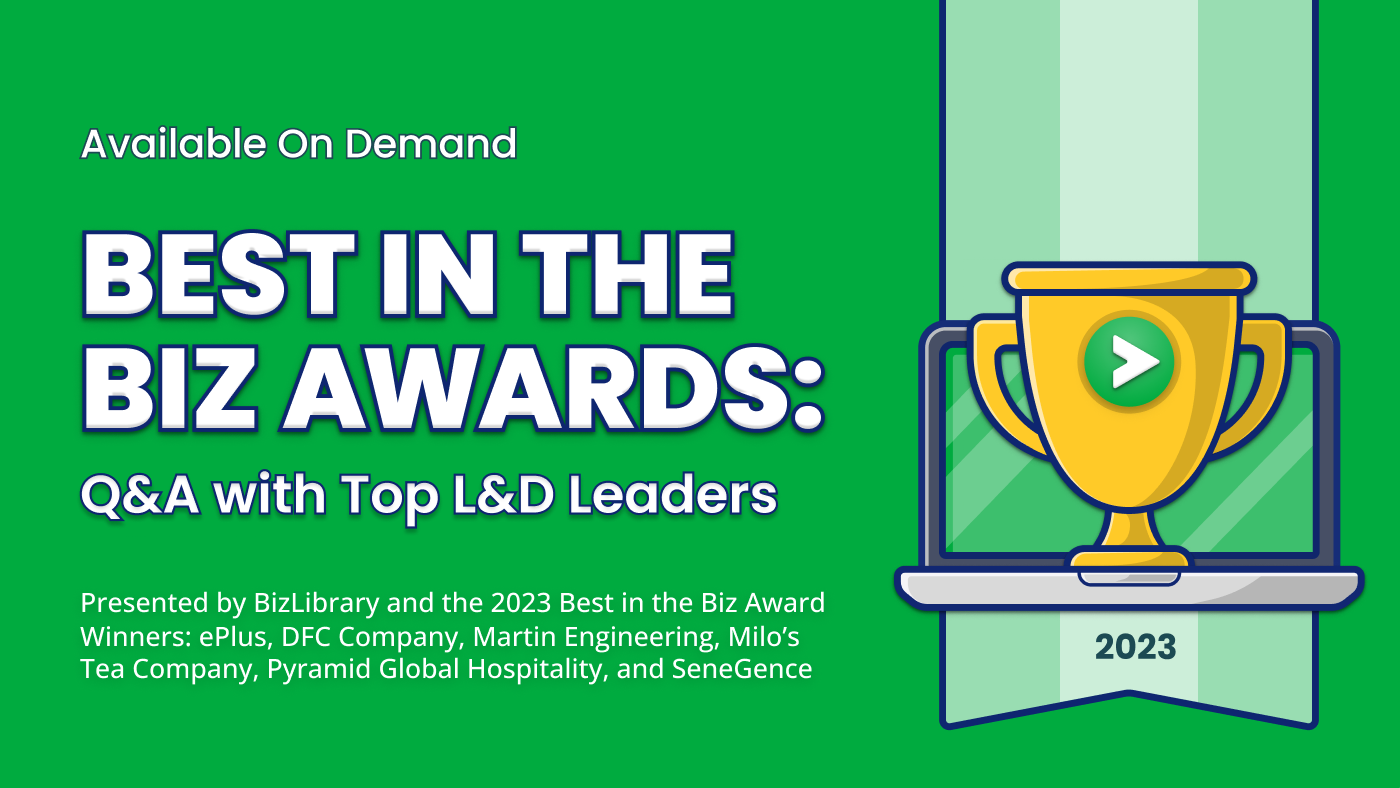 Best in the Biz Awards: Q&A with Top L&D Leaders
Wednesday, July 26, 2023, 1:00 pm CT
The votes are in! Join BizLibrary and the 2023 Best in the Biz Award Winners for a thoughtful and inspiring discussion on all things learning and development. These top L&D Leaders have had a huge impact on their organizations – transforming their safety programs, championing DEIB, cultivating remarkable leaders, and paving the way for upskilling and reskilling talent. For more details on the Best in the Biz Awards and their requirements, click here.  
We're bringing our award winners together to answer YOUR L&D questions!
Top Upskilling Program – SeneGence
Most Inclusive Culture – Pyramid Global Hospitality
Best New Program Launch – DFC Company
Most Improved Program – Martin Engineering
Best Leadership Program – Milo's Tea Company
Best Overall L&D Experience – ePlus
Be sure to check out our Best in the Biz webinar series – each month we'll highlight one award winner and you'll have the opportunity learn more about how they built their outstanding programs. Join us to continue learning from the Best in the Biz!
Brought to you by your presenters
Kathy Erdmann
People Development & Training Manager
Martin Engineering
Kathy Erdmann is a certified global human resources professional with 17 years of human resources experience and another 20 years of global experience in the areas of legal, administrative, sales, project management, and sustainability. All with Martin Engineering Company. She moved into human resources to have the chance to help individuals have the chance to develop. In her current role of People Development & Training Manager, Kathy manages the Learning System, Apprenticeships, Employee Development Program (now in 3 countries besides the USA) and the Emerging Leader Program. She also manages the HRIS, immigration, legal, and sustainability.

Natalie Feldhake
Manager of Employee Engagement & Development
DFC Company
Natalie Feldhake is the Manager of Employee Engagement & Development for DFC Company, the parent company to eight operating companies that sell and install all types of fences, traffic control products, highway guardrails, playground equipment, park & recreation equipment, and 3M-certified signs. Natalie believes the strongest organizations are those in which employees feel connected - to each other and to their everyday work! Her passion lies in helping leaders build that connection, through uniquely designed training and coaching. Natalie has a background in leadership development, employee engagement, strategic planning, coaching, and talent acquisition.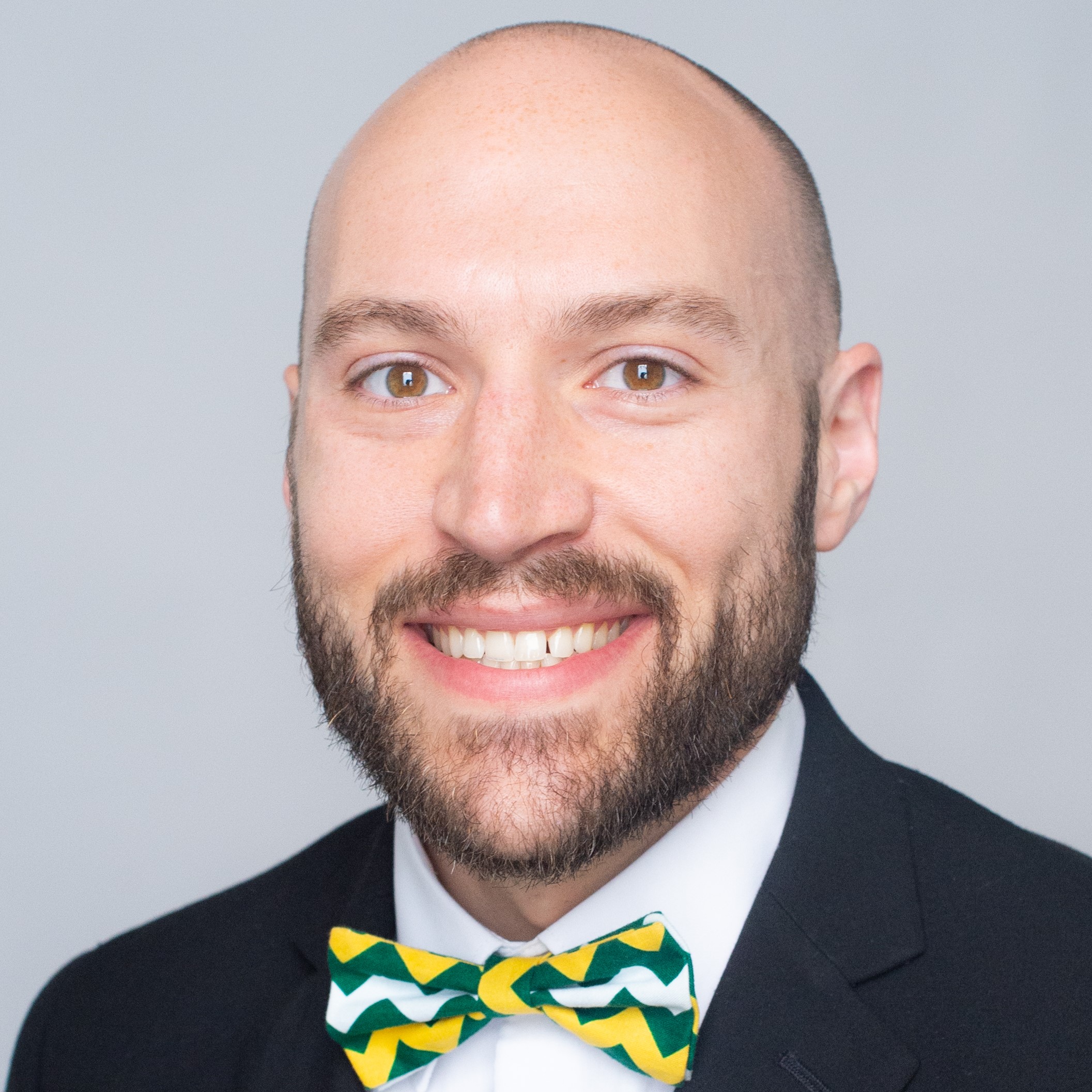 Adam Roderick
Manager of Learning & Development
Milo's Tea Company
Adam Roderick is the Manager of Learning and Development for Milo's Tea Company. He leads efforts to build a Culture of Learning at Milo's Tea Company and to ensure Milo's is a place People Come To Grow. Adam earned a B.S. in Psychology from the University of Alabama at Birmingham and a M.Ed. in Clinical Counseling from the University of Montevallo. Prior to joining Milo's Tea Company, he worked in a variety of clinical environments and spent 8.5 years in various coaching and leadership roles at The University of Alabama at Birmingham. Since joining Milo's Tea Company in Feb 2022, he has led the creation of numerous programs including Milo's Leaders as Coaches program, Workday Learning powered by BizLibrary, Milo's Growth Pathways, Operations Leadership Development, and Milo's Mentorship Program. Adam is fueled by equipping and empowering others to reach their full potential.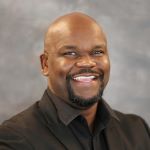 Calvin Banks
Sr. Vice President of People Development and Culture
Pyramid Global Hospitality
Calvin J. Banks Jr. is responsible for the people development and organizational culture strategies at Pyramid Global Hospitality. Calvin brings more than 25 years of experience in the entertainment, food service, and hotel management industry. He has spent time in leadership roles with organizations such as The Broadmoor, Gaylord Hotels, and Six Flags Entertainment. As an advocate for the hospitality industry, Calvin is the Chairman of the Education and Certification Advisory Committee for the American Hotel and Lodging Educational Institute (AHLEI). He is an inaugural member of the Advisory Council for the International Council on Hotel, Restaurant, and Institutional Education (ICHRIE). In addition, he served as President of CHART, an Association of Hospitality Trainers. Calvin takes great pleasure in helping people grow and cultures thrive.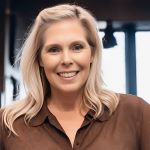 Heather Cupp
Sr. Human Resources Business Partner
SeneGence
Heather's expertise in instructional design and curriculum development has resulted in engaging and effective learning programs that drive measurable results. Heather has the fun and exciting mandate of transforming L&D for SeneGence. She's building a future-focused learning culture to help her colleagues thrive in a changing, dynamic workforce. She uses design thinking and Agile concepts to brainstorm, organize, prioritize and then simplify the approach. Her L&D programs have resulted in a YoY increase in participation of 46.17% in 2023, on top of a 86.47% increase in 2022. A seasoned learning & development professional and avid change champion, she has worked with a variety top global and US-based companies to plan, design and implement major change initiatives, learning strategies, and other strategic workforce planning and projects. Heather is a PHR® Certified Professional in Human Resources and Certified Director of Safety. And when she's not working or volunteering, you'll find her painting nature's beauty on a canvas, camping or kayaking in the wilderness or curled up with a good book.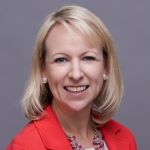 Caroline Raiszadeh
Director of Talent Development & Training
ePlus
Ms. Raiszadeh has served as Director, Talent Development & Training since 2016 and is responsible for driving the strategy and execution of ePlus' employee programs, staff development, and employee training initiatives. Since joining in 2009, she has held senior leadership positions in both Sales Management and Human Resources. Prior to joining ePlus, Ms. Raiszadeh served in multiple Sales, Marketing, and Corporate Administration Leadership roles. Ms. Raiszadeh studied Technology Education at Virginia Tech's College of Arts and Sciences, and Business Administration with dual concentrations in Human Resource Management and Sales Marketing at the University of Maryland. Ms. Raiszadeh is the recipient of several sales and leadership awards including the 2007 Dale Carnegie Sales Talk Champion, 2012 Cisco Partner Summit Services Partner Program of the Year, 2013 ePlus President's Club, and a 2023, ePlus Executive Choice Award for her dedication and commitment to developing and executing effective employee programs. In addition, Ms. Raiszadeh also had the honor of attending ePlus' celebration of 25th Listing Anniversary on Nasdaq in New York in November 2021.


BizLibrary is an approved credit provider for HR Certification Institute (HRCI), the Society for Human Resource Management (SHRM-SCP® or SHRM-CP®), ATD Certification Institute (CPTD/APTD), and Training Industry (CPTM). Viewing this webcast in its entirety qualifies for 1 recertification credit hour towards each credential. Learn more on our accredited content page.
FAQ
Q. What platform do you use for your webinars?
A. We use ON24 as our webinar platform.
Q. Do I need to download anything to attend?
A. No, ON24's interface does not require a download. You'll just need to make sure you have Adobe Flash enabled and for best results, close down any extra browser windows.
Q. How do I listen in to the webinars?
A. To listen in, you will need a pair of headphones or computer speakers. We do not provide a dial-in number for attendees.
Q. How early can I join the webinar?
A. The webinar room will open 15 minutes before the webinar starts.
Q. Do you recommend a certain browser to watch the webinar?
A. After 3/21/20, ON24 will not support Internet Explorer. We recommend using a supported browser, such as Microsoft Edge, Google Chrome, or Mozilla Firefox to view the webinar.
Q. Do you offer credits for your webinars?
A. Yes, most of our webinars are approved for one hour of HRCI and SHRM general credit. In order to be approved for credits, you must attend at least 50 minutes of the webinar.
Q. How do I know if the webinar is approved for credits?
A. If a webinar is approved for SHRM or HRCI general credits, the registration page will have the SHRM and HRCI badges at the bottom of the page. If you have any questions regarding credits, email kmiller@bizlibrary.com.
Q. How will I receive my HRCI and SHRM certificate?
A. If you have attended for 50 minutes of an approved webinar, there are a few ways you can obtain your certificate. First, you can download the certificate from a widget in our platform. If you forget to download the certificate during the webinar, an email will be sent with the certificate about 2 hours after the webinar is complete.
Q. If I'm not able to watch the webinar at the live time, can I watch it later?
A. Yes! We understand that you might not be able to watch the webinar at the live time, so we offer our webinars on demand. On-demand webinars are available up until 12 months after the initial live webinar date.
Q. What if I am having trouble accessing the webinar?
A. The webinar room will open 15 minutes before the live time. If you are still having issues attending, email kmiller@bizlibrary.com.