Viamedia Prioritizes Skills Development to Create a Culture of Continuous Learning
Company Size
450
Industry
Media and Communication
Use Cases
Remote Work, Annual Compliance, Diversity, Equity, & Inclusion, Leadership Development
Who Is Viamedia?

Viamedia is the leading independent cable advertising management company in the US, giving video providers across the country dependable, high-quality representation of their advertising inventory. 

Primary Challenge

Prioritize upskilling and reskilling their employees to create a culture of continuous learning.

Results

More employees taking control of their development conversations with their managers and overall higher program completion rates.
A Man on the Moon and a Continuous Learning Culture
When JFK was in office there was one unified goal: to be the first to get a man on the moon. That goal was engrained into every employee at the White House no matter what their role was. From the janitor to the accountant to the scientists, if you asked anyone  "Hey! What is your job here?" they would all respond the same, "To get someone on the moon!"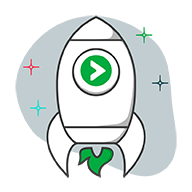 While astronauts and space suits aren't involved, similarly the training and development team at Viamedia worked to establish a mindset that the development of every single person at their organization is a priority and time should be allotted for their participation in their prescriptive programs. Creating a culture of continuous learning allows their employees to perform their jobs better while simultaneously growing in their roles. 
While this culture has been adopted for a while, it took some time to get there. One of the biggest challenges Viamedia faces is that they're mainly a sales-based organization, which means there are always a lot of competing priorities.
They found themselves asking, how do we introduce these programs into the organization so that they're seen as a benefit rather than another thing on their employee's to-do list.
Marshall Fields, Training Coordinator at Viamedia, knew he needed to leverage his partnership with his BizLibrary Client Success Manager to prepare for getting leadership buy-in to solve for this question.
Fields mentioned that his CSM had "A depth of knowledge that gives you the ability to up your game, support you, and make you look good."
Together they put together a presentation to showcase all the positive impacts that would come from the various prescriptive programs Fields was proposing. In it they discussed relevant statistics related to each, the approach and delivery methods, and what measures of success they could track to show impact.  
Because of the preparedness and commitment to developing every person in their organization, leadership bought into the need for a series of prescriptive programs. While these programs cover a wide range of topics, they all became Viamedia's man on the moon.  
What Programs Make Up the Journey to the Moon?
There are several programs implemented into Viamedia's organization to help their employees on their journey to be smarter every day (if you know our core values you know we are all about this!). Some are more operational, and others are more involved.
A few of the programs that are for everyone include: 
Change Management
Change is inevitable, and every organization goes through it. Knowing how to handle and adapt when change does happen is an important and vital business skill.  
The pandemic created a huge culture shift. More people are working from home than ever and learning to navigate the evolution to the new normal is crucial to collaborative and productivity efforts.  
Cybersecurity
It's no secret that cyber-attacks seem to happen often. Ensuring employees know how to protect their personal and professional information from having this happen to them is not an option.  
Different backgrounds, opinions, and views are inevitable in the workplace. Learning how to respect and honor these of their peers at Viamedia is of the utmost importance.  
Fun Fact! Because of his passion around DEI efforts, Marshall believes that you can change your world by changing how you talk to it, he's also come to realize there is ample room for improvement in how we communicate with one another.
Marshall has fifteen years of experience communicating the values of highly effective communication in both friendly and confrontational environments. His background merges the technical aspects of adult learning with elevated soft skills.
With all that being said, BizLibrary invited him to sit down with our film crew and produce an Expert Insights Series. The Expert Insights series takes knowledge, experience, and insights from passionate professionals. At BizLibrary we believe the best teachers are those whose work and life experiences add credit to their message.
In his course, Marshall dives into how to better communicate to overcome racism.  We are excited to add this to our extensive offering to shed light on an essential topic to create a more compassionate and competent future.
Be on the lookout for these titles in our library soon:  
Expert Insights: Freedom From Racism with Marshall Fields (Part 1): Learning the Language and Barriers Video Course

 

Expert Insights: Freedom From Racism with Marshall Fields (Part 2): Embracing Empathetic Communication Video Course

 
Additionally, Viamedia is rolling out a brand-new, two-part leadership program for anyone that has at least one direct report. Because not everyone learns the same way, the training and development team designed this course to be a blended learning style format.
Their learners first complete their online training through BizLMS and then get together virtually in cohorts to have a live discussion. The team at Viamedia are strong believers that the best learning does not happen solely by listening to a facilitator, but rather by coming together and discussing practices or seeking advice on certain instances from like-minded people.
The first part is a nine-week course designed to dive into topics centered around how managers engage with their direct reports. They cover topics like:  
Coaching Career Development 

 

Painless Performance Conversations 

 

Dealing Effectively with Unacceptable Employee Behavior 

 

How to Create and Present a Performance Plan 

 
The second part is influenced by BizLibrary's leadership playbook to create a longer-term corporate strategy to pour into their leaders to enrich their skill set. The playbooks outline everything you need from start to finish to create and run a robust training and development program.
No matter which topic you select from our library, each is complete with:  
A use case overview 

 

Statistics to help show the importance to leadership 

 

Steps on how to use the Kirkpatrick Model to prove ROI 

 

Recommended time frames for program delivery 

 

Activities unique to each topic 

 

Discussion questions to be used in a blended learning setting 

 

Marketing email templates 

 

BizLibrary content mapped to each subtopic

 
So, Tell Me – What's It Like on the Moon?
Viamedia has had a successful journey and can confidently report that life on the moon is going just as well.
The training and development team reports on success metrics in two different ways. The first is the classic ROI (return on investment). And due to the reporting features that BizLMS, provides they are easily able to pull data that supports showing this return. On a consistent basis they pull overall utilization of their learners, which content titles are most popular in their organization, and completion rates.
With the culture shift to have an elevated focus on development, Viamedia mentioned that there used to be a time when training participation would be low, now they are seeing higher completion rates and more frequent on-time completion.
The second way is ROE (return on expectation). Frequently the team sends out pulse surveys to gauge feedback on training. Identifying additional training needs, where their areas of growth have been, and just overall sentiment around training.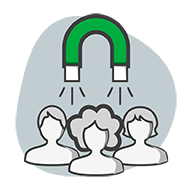 With the safe space to be transparent through these surveys, they found employees are more empowered to have discussions with their managers to set specific time aside to develop themselves.
Having a culture that supports these conversations paves the way for higher employee retention and lower turnover rates.  
Supporting our clients in their training and development journey is what we at BizLibrary do best.