Martin Engineering Drives Learning with New Leadership Program
2023 Best in the Biz Award Winner
Most Improved Program - The Karate Kid Award
Company Size
700
Industry
Industrial Machinery and Equipment
Use Cases
Leadership Development, Onboarding, Safety, Sales and Customer Service
Who is Martin Engineering?

Since 1944, Martin Engineering has manufactured durable products that help their customers handle bulk materials efficiently, safely, and profitably. Their products are the best in the world at keeping belts clean and minimizing carryback, making transfer points more efficient, managing fugitive dust and preventing obstructions in material flow.

Primary Challenge

With many leaders entering their management positions with little to no people-managing experience, they found that many needed skills training to perform at their best and lead and grow their teams in a positive and collaborative way.

Results

Leveraging BizLMS and BizLibrary content, Martin Engineering created the Emerging Leaders blended learning program designed to fill the skill gaps in leaders' skills in key areas and provide connection opportunities with other leaders to create a network of support.
The Promise to Learn
Everybody loves a good comeback story. Probably the most iconic one is when Johnny Kreese beat Danny LaRusso in The Karate Kid. Feeling defeated and trying to get the girl of his dreams, Johnny solicits the help of karate instructor Mr. Miyagi. Through unconventional training techniques and determination, Johnny became Mr. Miyagi's protégé and came out on top in the competition, despite being seen as the underdog.  
One of our clients, Martin Engineering, found themselves in a similar situation. Rather than trying to beat the neighborhood bullies and win the girl, they wanted to boost learning at their organization and offer new development opportunities to their employees.  
In 2022 they were primarily running new hire, safety, and basic sales and customer service training. After evaluating their usage, they only saw a total of 2,000 training hours primarily driven by mandatory training.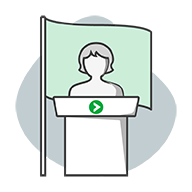 With that in mind, Kathy Erdmann, HR Manager, sought the help of her BizLibrary CSM to brainstorm new ways to transform the perception of learning and development beginning with leadership development. With her commitment to staying focused on the right side of the road and not ending up like a squished grape, the official planning for their Emerging Leaders program began.  
The 'Why' Behind the Program
To make this program impactful, Erdmann conducted a case study around their people leaders and their experiences (especially for first-time managers). What she found was that promoting supervisors involved selecting individuals who excelled in their roles but were placed in these new roles with minimal training or mentoring.  
This led to frustrations not only among the managers because they felt ill-equipped to perform at their best, but also from their direct reports. They felt like managers were operating in a "my way or the highway" mentality and lacking empathy. In addition, 60 out of 225 U.S. employees are retiring in the next 10 years at Martin Engineering which made succession planning even more crucial. These two factors indicated a pressing need for more comprehensive training and support for new supervisors and to provide a better understanding of who Martin Engineering was to better prepare them for the future.  
The Lessons Before the Launch
While there may be no "wax on, wax off," "sand the floor," or "paint the fence," there were several techniques used to make the Emerging Leaders program successful at Martin Engineering. The first was securing leadership buy-in. With not wanting a long time between conception and execution, time was of the essence getting the executive team together to review the program Erdmann had built.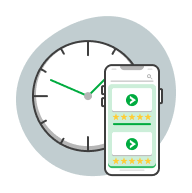 Originally, the executive team was concerned about the time commitment of the program, but that concern was easily eliminated once it was explained that for each manager, it would be about a two-hour commitment over the span of six months.  
The next step was to persuade and enroll participants in the program. It helped significantly to have the support of the executive team because they aided in sourcing employees they felt would benefit from the program. After Erdmann had the list of participants, she reached out to them. This program was voluntary, but she was thrilled to find out that many employees were interested in participating. And with her confirmed list of participants, she was ready to kick off the first cohort of the Emerging Leaders program.
The Crane Kick of Leadership Programs
With the logistics squared away, it was time to implement the program. The monthly content provided by Erdmann's BizLibrary CSM was assigned through BizLMS and covered topics like:  
Empathy,

 

Motivating others,

 

Delegation,

 

Interviewing, and

 

How to deal with conflict.

 
Leaders participating in the program had the flexibility to take classes at their own pace within monthly completion dates.  
Every other month Erdmann hosted focused group discussions
where program participants could share ideas and experiences, become a networked team, and were able to realize they weren't alone in facing some of their challenges. During these discussions, leaders didn't have to be afraid of asking questions because it was a safe environment, and what was shared remained confidential. Some of the discussion groups included members of the executive leadership who shared their experiences and offered advice. The CEO even led an exercise designed to provide insights into what it means to be a great leader.  
Coming Out Victorious
In true Karate Kid fashion, Martin Engineering is coming out on top with the introduction of its Emerging Leaders program! Leaders who went through the first cohort provided written feedback and it included sentiments like:  
The classes provided opportunities to learn new supervisory skills and refresh existing ones where formal training was lacking.

 

Sharing challenges and experiences with other participants was highly beneficial because it created a strong network with one another where they felt safe to open up to discuss and address these topics.

 

Having the opportunity to ask senior leadership further enriched the learning experience.

 
The positive experiences were also reflected in the tangible improvements the managers were able to bring about within their teams, notes Erdmann.  
Furthermore, at the end of October 2023, a little over 2,000 learning hours have been logged and they're tracking to see a 30% increase over last year! Way to stay in the fight to drive more learning at your organization, Martin Engineering!! 
Taking on Their Next Challenge
With all the success that has come from their first Emerging Leaders program, Erdmann is looking forward to offering the program annually to new leads and supervisors and even expanding it to other regions outside of the U.S. Additionally, due to expressed interest from learners, there is a consideration in opening the program to any lead or supervisor who wishes to participate rather than a formal selection process with the addition of a mentoring program to accompany it.  
Lastly, they are in the process of launching a revamped Customer Service program that follows a similar approach with monthly classes and discussions. We can't wait to see the incredible benefits that come from offering this program to their employees!