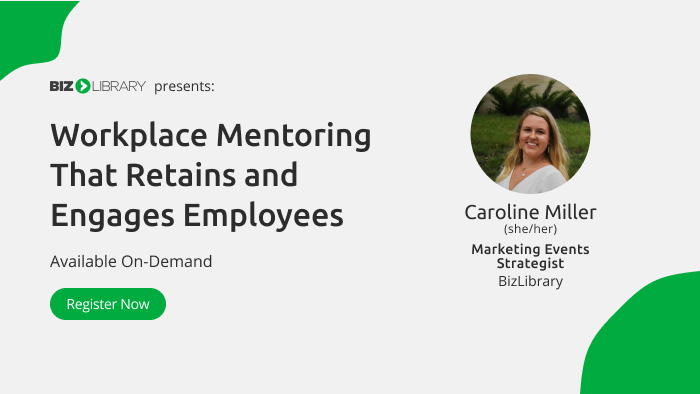 Workplace Mentoring That Retains and Engages Employees
Tuesday, January 25, 2022, 1:00 pm CT
Retaining and engaging employees are two goals that every organization is striving to achieve. Studies have shown that having engaged employees can drastically improve your bottom line, and a high level of retention is a key indicator that your company is filled with satisfied employees.
Although most organizations are striving for increased retention and engagement, that doesn't mean it can be achieved quickly. Engagement and retention increase when company culture is improved, and having opportunities to develop your employees plays a big part in creating a strong culture. One strategic way to develop employees is through mentor programs. Many leaders like the idea of a mentor program but aren't sure how to make it successful.
If that's you, join Caroline Miller in celebrating National Mentoring Month, and learn how to build a strong mentor program that will help you achieve your goals of increasing employee retention and engagement.
During this webinar you will learn:
Key attributes needed for a strong mentor program
A step-by-step process on how to build your mentor program
How mentor programs can help increase employee engagement and retention
Brought to you by your presenters
Caroline Miller
Marketing Events Strategist
BizLibrary
As the marketing events specialist Caroline Miller spends most of her days learning new things by researching and writing engaging content for L&D and HR professionals. While she enjoys doing work behind the scenes, she has become increasingly passionate about sharing her story through presenting, moderating, and hosting virtual events with other presenters and partners in the industry.

BizLibrary is an approved credit provider for HR Certification Institute (HRCI), the Society for Human Resource Management (SHRM-SCP® or SHRM-CP®), ATD Certification Institute (CPTD/APTD), and Training Industry (CPTM). Viewing this webcast in its entirety qualifies for 1 recertification credit hour towards each credential. Learn more on our accredited content page.
FAQ
Q. What platform do you use for your webinars?
A. We use ON24 as our webinar platform.
Q. Do I need to download anything to attend?
A. No, ON24's interface does not require a download. You'll just need to make sure you have Adobe Flash enabled and for best results, close down any extra browser windows.
Q. How do I listen in to the webinars?
A. To listen in, you will need a pair of headphones or computer speakers. We do not provide a dial-in number for attendees.
Q. How early can I join the webinar?
A. The webinar room will open 15 minutes before the webinar starts.
Q. Do you recommend a certain browser to watch the webinar?
A. After 3/21/20, ON24 will not support Internet Explorer. We recommend using a supported browser, such as Microsoft Edge, Google Chrome, or Mozilla Firefox to view the webinar.
Q. Do you offer credits for your webinars?
A. Yes, most of our webinars are approved for one hour of HRCI and SHRM general credit. In order to be approved for credits, you must attend at least 50 minutes of the webinar.
Q. How do I know if the webinar is approved for credits?
A. If a webinar is approved for SHRM or HRCI general credits, the registration page will have the SHRM and HRCI badges at the bottom of the page. If you have any questions regarding credits, email kmiller@bizlibrary.com.
Q. How will I receive my HRCI and SHRM certificate?
A. If you have attended for 50 minutes of an approved webinar, there are a few ways you can obtain your certificate. First, you can download the certificate from a widget in our platform. If you forget to download the certificate during the webinar, an email will be sent with the certificate about 2 hours after the webinar is complete.
Q. If I'm not able to watch the webinar at the live time, can I watch it later?
A. Yes! We understand that you might not be able to watch the webinar at the live time, so we offer our webinars on demand. On-demand webinars are available up until 12 months after the initial live webinar date.
Q. What if I am having trouble accessing the webinar?
A. The webinar room will open 15 minutes before the live time. If you are still having issues attending, email kmiller@bizlibrary.com.