Innovate for a Positive Future with the Power of Generations
Presented by: Laura Goodrich
Wednesday, May 23, 2018
1:00 pm CT
What are people saying about BizLibrary webinars?
"This webinar fit perfectly with current topics being reviewed and trained in our company."
- Jennifer L
"The presenter was great. I wish every webinar I attended was this interesting. The presenter made it very exciting."
- Heather E
The workforce is now more diverse than ever, and this has created a unique opportunity to leverage the power of that diversity to innovate. The organizations that thrive will be the ones that create opportunities to leverage the assets of all the generations.
We're all looking for the same thing: purpose and balance in our work and personal lives. In this webinar, Laura Goodrich will discuss what's getting in the way, and how to turn it around so we can truly Leverage the Power of Generations to drive innovation and positive change.
She'll share examples of companies that have afforded opportunities for the generations to focus on their strengths and find common bonds, creating next generations solutions. In this webinar, you'll learn:
Why it's urgent to Leverage the Power of Generations to innovate
Where and why things get off track
How to honestly assess your effectiveness with the "Innovate with the Power of Generations" competencies
The value of finding common ground, what binds us no matter the year of our birthday, and a surprising and powerful way to make a connection that fosters trust
How innovative leaders and teams are leveraging the power of generations to more effectively change and innovate, before it's too late
Do not allow your organization to be left behind. Take advantage of these strategies to harness the power of generations and innovate for a positive future.
PRESENTERS
Laura Goodrich
Keynote Speaker, Author
GWTNext
Laura Goodrich is an internationally recognized expert in change and the future of work. She has spent twenty years as an innovator, speaker, coach, and adviser. Her global perspectives on workplace dynamics and change have earned her the reputation as someone who can create positive outcomes in even the most challenging workplace dynamics.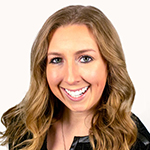 Katie Miller
Webinar Host
BizLibrary
As a Marketing Specialist with BizLibrary, Katie helps facilitate and create educational and engaging webinars geared towards Human Resources and Learning and Development professionals. She conducts research and works with subject matter experts to ensure the BizLibrary audience is receiving the most relevant and up-to-date content possible.
FAQ
Q. What platform do you use for your webinars?
A. We use ON24 as our webinar platform.
Q. Do I need to download anything to attend?
A. No, ON24's interface does not require a download. You'll just need to make sure you have Adobe Flash enabled and for best results, close down any extra browser windows.
Q. How do I listen in to the webinars?
A. To listen in, you will need a pair of headphones or computer speakers. We do not provide a dial-in number for attendees.
Q. How early can I join the webinar?
A. The webinar room will open 15 minutes before the webinar starts.
Q. Do you recommend a certain browser to watch the webinar?
A. Yes, we would recommend to avoid using Internet Explorer as we found it is not as compatible with our platform.
Q. Do you offer credits for your webinars?
A. Yes, most of our webinars are approved for one hour of HRCI and SHRM general credit. In order to be approved for credits, you must attend at least 50 minutes of the webinar.
Q. How do I know if the webinar is approved for credits?
A. If a webinar is approved for SHRM or HRCI general credits, the registration page will have the SHRM and HRCI badges at the bottom of the page. If you have any questions regarding credits, email kmiller@bizlibrary.com.
Q. How will I receive my HRCI and SHRM certificate?
A. If you have attended for 50 minutes of an approved webinar, there are a few ways you can obtain your certificate. First, you can download the certificate from a widget in our platform. If you forget to download the certificate during the webinar, an email will be sent with the certificate about 2 hours after the webinar is complete.
Q. If I'm not able to watch the webinar at the live time, can I watch it later?
A. Yes! We understand that you might not be able to watch the webinar at the live time, so we offer our webinars on demand. On-demand webinars are available up until 12 months after the initial live webinar date.
Q. What if I am having trouble accessing the webinar?
A. The webinar room will open 15 minutes before the live time. If you are still having issues attending, email kmiller@bizlibrary.com.