Creating a Culture of Respect: HR Risk Management Strategies
Presented by: Kelly Kramer & Patti Massey
Wednesday, October 24th, 2018
1:00 pm CT
What are people saying about BizLibrary webinars?
"This webinar fit perfectly with current topics being reviewed and trained in our company."
- Jennifer L
"The presenter was great. I wish every webinar I attended was this interesting. The presenter made it very exciting."
- Heather E
Unlike other forms of discrimination, harassment is typically cumulative in nature. One offensive remark will seldom be illegal, but can become illegal if similar incidents are allowed to recur.
Women and men often perceive differently where the line is drawn between welcome and unwelcome comments about appearance and social invitations at work. These subtle types of unwelcome behavior are often difficult to recognize because the recipient frequently does not complain and harassers often do not recognize when their behavior is unwelcome.
Although unwelcome behaviors can be more subtle than allegations we hear or read about in the news, they are still harmful. Their impacts include discomfort, embarrassment, anxiousness, stress, anger, and feeling stalked. Sometimes the harassed employee will take deliberate actions to avoid the harasser by avoiding work areas, changing work schedule, and not staying late or arriving early.
Join Patti Massey and Kelly Kramer, from MYCA Learning, as they discuss the following:
What is sexual harassment – How to recognize it if it is happening to you or someone you work with.
How to stop it – Once you learn how to recognize what harassment is, we will look at practical ways to prevent or stop it.
How to report it – While every organization has different procedures for reporting harassment, we will discuss how and when to report.
How to respond – If you are a supervisor, it is important to know how to respond to any complaints to maintain a safe work environment.
PRESENTERS
Kelly Kramer
Online Learning Specialist
EZLEARN University
Kelly Kramer has worked with MYCA and EZLEARN UNIVERSITY since 2010. Her background includes 15 years as a trainer working with law firms, insurance companies, banks, schools and various other industries. Kelly has experience teaching Workplace Harassment and Diversity Classes, Microsoft Office, Communication and Leadership Skills workshops. Currently Kelly develops Workplace Harassment courses and other custom learning for EZLEARN University. In her free time, she volunteers as a teacher for CWJC in Arlington, TX teaching under resourced women computer job skills to improve their chances of finding a meaningful career.
Patti Massey
President
MYCA Material Handling Solutions, Inc. & MYCA Multimedia & Training Solutions
Patti Massey is the owner and CEO of MYCA:group which leverages technology for enhanced performance and reduced operational costs. Earlier this year, MYCA was selected as one of the 50 fastest growing women owned businesses in the USA placing #14 on the list, and Patti was just named one of the top WBE CEOs in the country. She was born an entrepreneur, starting with a lemonade stand at age 8 and moving into production and distribution of potholders by 9. In 2017, she celebrated her 30th anniversary as a business owner. Patti serves as Vice Chair of the Women's Business Enterprise National Council Forum (WBENC) and was awarded WBENC's highest honor as a 2012 STAR. She's an active member of the WBENC board of directors and the Ohio River Valley Women Business Council steering committee. Patti is committed to sourcing through Women Business Enterprises (WBEs) and is a strong advocate for M/WBE inclusion in the supply chain by regularly meeting with entrepreneurs for encouragement and support. In fact, in 2017, MYCA will spend almost $2M with other WBEs.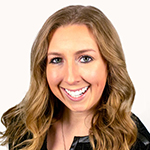 Katie Miller
Webinar Host
BizLibrary
As a Marketing Specialist with BizLibrary, Katie helps facilitate and create educational and engaging webinars geared towards Human Resources and Learning and Development professionals. She conducts research and works with subject matter experts to ensure the BizLibrary audience is receiving the most relevant and up-to-date content possible.
FAQ
Q. What platform do you use for your webinars?
A. We use ON24 as our webinar platform.
Q. Do I need to download anything to attend?
A. No, ON24's interface does not require a download. You'll just need to make sure you have Adobe Flash enabled and for best results, close down any extra browser windows.
Q. How do I listen in to the webinars?
A. To listen in, you will need a pair of headphones or computer speakers. We do not provide a dial-in number for attendees.
Q. How early can I join the webinar?
A. The webinar room will open 15 minutes before the webinar starts.
Q. Do you recommend a certain browser to watch the webinar?
A. Yes, we would recommend to avoid using Internet Explorer as we found it is not as compatible with our platform.
Q. Do you offer credits for your webinars?
A. Yes, most of our webinars are approved for one hour of HRCI and SHRM general credit. In order to be approved for credits, you must attend at least 50 minutes of the webinar.
Q. How do I know if the webinar is approved for credits?
A. If a webinar is approved for SHRM or HRCI general credits, the registration page will have the SHRM and HRCI badges at the bottom of the page. If you have any questions regarding credits, email kmiller@bizlibrary.com.
Q. How will I receive my HRCI and SHRM certificate?
A. If you have attended for 50 minutes of an approved webinar, there are a few ways you can obtain your certificate. First, you can download the certificate from a widget in our platform. If you forget to download the certificate during the webinar, an email will be sent with the certificate about 2 hours after the webinar is complete.
Q. If I'm not able to watch the webinar at the live time, can I watch it later?
A. Yes! We understand that you might not be able to watch the webinar at the live time, so we offer our webinars on demand. On-demand webinars are available up until 12 months after the initial live webinar date.
Q. What if I am having trouble accessing the webinar?
A. The webinar room will open 15 minutes before the live time. If you are still having issues attending, email kmiller@bizlibrary.com.